When to Outsource Document Printing Services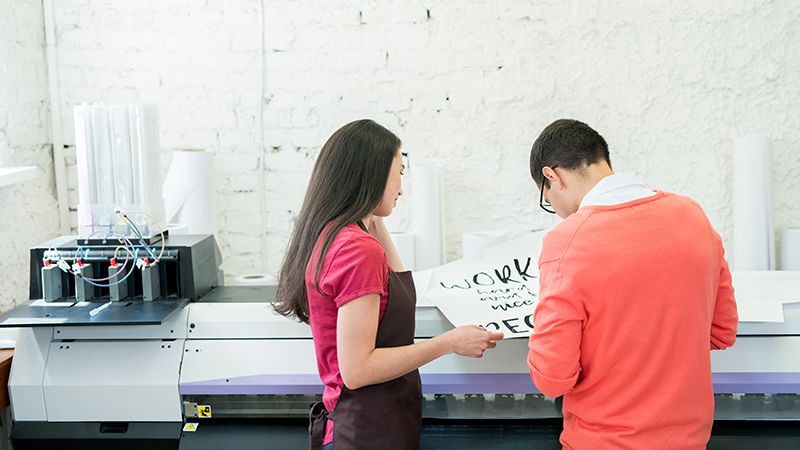 For many organizations, printing equipment is a necessity to complete day-to-day work: printers, copiers, production printers, label printers or wide format printers.
Other organizations have special printing projects to do, but don't print enough to purchase printing equipment.
How should you handle special printing projects that don't come up all the time, such as when you need a banner for a special event? Do you have enough space or people to run the equipment? Does your printing need justify the cost? Whether to print in-house or outsource will depend on your needs.
What Are Document Printing Services?
With document printing services, you outsource printing to another business. Instead of printing in-house at your own organization, you pay a business to provide printing services for you. This can be a cost-effective way to access professional, high-quality printing.
Printing services may involve graphic design services, pre-press (preparing a document for printing), digital black and white printing, digital color printing, wide format printing, label printing and envelope printing. Printing services can also include finishing services. You may choose to outsource printing services for high-quality booklets, brochures, business cards, calendars, envelopes, labels, menus, postcards, thank-you cards, wide format banners, posters, or other oversized materials. The list of possible printing services is long.
Printing services may not make sense for all organizations. Whether to choose printing services comes down to what your printing needs are.
What factors lead an organization to outsource printing services?
Space
Do you have space available for printing equipment in your workplace? While finding space for a desktop printer or business-class copier may be easy, many organizations don't have room for larger printing equipment, such as production printers and wide format printers. Some can be as big as a pickup truck or even as long as a limousine. If you don't have the space for a machine, outsourcing might make the most sense.
Volume
The volume of printing needed will provide an obvious reason to buy or not to buy printing equipment. Does your organization have enough print volume to justify the costs of having your own printer in-house?
Perhaps your printing project only occurs once per year. You know you want high-quality printing for the project, so you choose to outsource the work. But if you have consistent printing needs, purchasing printing equipment might be the best option for your business.
Budget
Volume needs and budget restraints go together. The more you print, the more it costs you. At some point, volume needs cross the line to needing to purchase printing equipment in-house.
Printing business-class black and white or color, versus high-volume production color, calls for different tools. Production printers are more expensive and much larger because of the speed and quality they offer. They are also much more costly to maintain and to staff people to run them. If your core business involves printing, like in an engineering firm, architecture firm, advertising agency or a print shop, you're likely printing enough to make buying big equipment make sense. If your big project(s) are one-offs or only occur a handful of times per year, outsourcing is going to make more sense for you.
Resources
Let's say you have the space and volume needs to justify the budget for printing equipment. Do you have the people to run it? The unemployment rate as of April 2019 was 3.6% in the United States (Bureau of Labor Statistics). An unemployment rate so low is great for job searchers, but tough for employers. Having production equipment in-house means you need to be able to run it, and that takes people.
Are you able to staff or hire people to run the printing equipment you need? Salary and benefits are expenses you need to account for when bringing printing in-house.
Expertise
On the same note as resources, do you have the expertise to run the machines? High-quality printing requires special knowledge about different paper weights and paper types (matte, glossy, vellum). Do you have the expertise to understand file types, file set up, imposition, color, pre-flight, output and quality checking?
Printing services will help you identify best printing practices. People working in the printing services industry have seen it all and will know how to complete your project on budget.
Their services can include consulting, file assistance (preparing files for printing), along with letting you know different print and finishing ideas for your project. A print consultant will offer paper and finishing suggestions to create a high-quality product as well as file set-up to complete the job in a cost-efficient manner. You know they'll print your project right, whether your final product will be printing on paper, canvas or another medium.
---
When should you outsource printing? Is printing in-house or outsourcing to printing services right for you?
In summary, there is no right or wrong answer to these questions and the ultimate decision on where your printing is done is up to you. Every organization has different resources and needs.
Loffler Companies sells and services printers, copiers, production printers and wide format machines. We know printing equipment and processes well and have expert consultants to help you determine whether it makes sense to buy printing equipment or to outsource your printing needs. We can help you assess your space, volume, budget, resource and expertise needs, and recommend the best option.
Learn More About Print Solutions
Read More: 9 Office Services to Let Someone Else Manage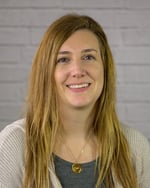 Teresa Grace is a graphic designer at Loffler Companies. Her background consists of over eight years of graphic design experience with an Associates Degree in Commercial & Technical Art. She specializes in graphic design, typography, drawing and painting, with extended experience in pre-press, printing and finishing of various print projects.