How to Print on Envelopes and Other Common Copier Questions [FAQ]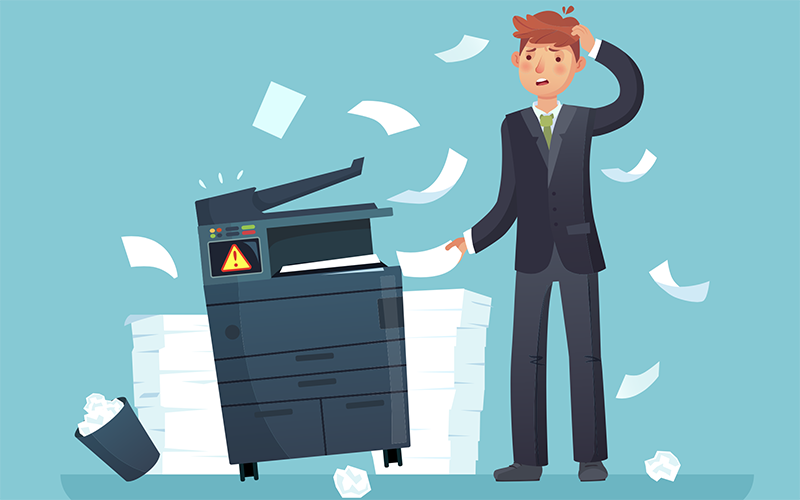 Wondering how to print on envelopes? Trying to lower printing costs? Confused by an error message on your copier? Can't determine how to configure default settings?
Our trainers answer copier-related questions often. We hear many common questions again and again (both on old and new machine purchases). We put together a list of some of the most common questions to help save you time. Bookmark this list for later, and let us know in the comments what questions you have. We'd be happy to provide the answer!
Jump to a Topic:
How do I print on envelopes?
Printing on envelopes can be a daunting task for new users, because of the dreaded paper jam and not wanting to waste envelopes. I know it's a huge headache to have to clear a jam on the machine multiple times in the middle of a print job. While many copiers have the ability to print on envelopes, it's important to know your machine's specific configurations for envelope sizes and envelope thickness. Loffler's training team has compiled the following how-to guides to help you print on envelopes:
Am I getting charged too much for color?
It's important to know the difference between Auto Color and Full Color. Many users can find savings on color costs by switching to Auto Color. Auto Color will print grayscale using only black toner. Full Color, on the other hand, prints grayscale using a mix of colors, resulting in a richer, fuller, gray. With Auto Color, the printer can detect whether each page should be printed in color or in grayscale. There is a quality trade-off for printing grayscale on Auto Color, but you don't want to be on Full Color unless there's a specific business reason for having higher-quality grayscale.
How do I set defaults on my print driver?
Setting print driver defaults can save you time and help you save money (our Auto Color vs. Full Color suggestion above is just an example). Just about every printer and copier brand is defaulted to print in color, two-sided, but another default setting may be a better fit for your organization. Training Videos and Quick Guides are available on our training page.
Can I store print jobs on the machine?
Many copiers allow for storing print jobs in what are called either mailboxes, user boxes or file folders, depending on the brand of copier you're using. Think of these as temporary file folders on the machine. We recommend always keeping an original version of the document on your network, but storing it for quick access on the copier will allow you to keep specific printer settings for the document and will ultimately save you time. When a document is already set up the way you want, life gets a lot easier.
How do I print a banner?
Banner printing is a new feature available on certain copiers, enabling users to print banners in-house instead of having to pay to have it done elsewhere. We have Quick Guides on banner printing available under the Konica Minolta section on our training page.
Why can't I print edge-to-edge?
While edge-to-edge printing (printing on the whole page without a margin) is possible on large format machines, it's not possible on a laser copier/printer. We can recommend a hack for edge-to-edge printing when it's not a capability of your machine. As long as you're trying to print edge-to-edge on a smaller-size paper than your machine's maximum paper size, you can print on paper larger than you need, and trim it. For an 8 ½ x 11 edge-to-edge print, print your document on an 11 x 17-size paper, and cut away the excess. This is a common practice in many print shops. For larger print jobs, you may want to consider a large format printer.
How do I add people to an address book for scanning?
Instructions for doing this are specific to the brand of copier you have, but the majority of the time, you can add people directly from the address book on your home screen. Specific instructions are available in the Quick Guides on our training page.
What's a waste container, and how do I change it?
The waste container is the trash bin in your copy machine. It collects the tiny leftover pieces of toner and other waste from your print jobs. When the waste container is full, follow instructions on your machine to take it out and insert a new one. We recommend always keeping a spare on hand to prevent downtime. The machine will warn you when your waste container is almost full, but it's usually the day you get the error that you need to change it.
How do I find my meter reading?
This is one of our most common questions, and it comes up at least once a week. You have the option on all machines to get the meter reading on the machine itself in the settings/registration area on the menu. Instructions are included with the meter read request email, and you can reach out to our Imaging Help Desk for instructions as well. You are also able to look up your meter reading by typing the machine's IP address into a web browser when you're connected to Wi-Fi at your organization. Just type the IP address into the URL bar. You can also update the address book this way, and add names for mailboxes. Usually it's only the key operators or IT team using the IP address to access this information, but it's a nice option. Here's an example of what the screen would look like:


How can I track printer usage?
Many customers ask for tips to track printer usage beyond meter readings. For advanced tracking, consider using Managed Print Services, or installing Secure/Follow-Me-Print to manage your devices. These provide advanced software options to track printer usage by ID codes and specific accounts. This case study shows how Secure/Follow-Me-Print helps helps track printing.
When should I update my print driver?
When you update your computer to a new operating system, you need to update your print driver. Language from each version talks to printers a little different. If you don't update, you may still be able to print, but you will likely find funky, odd errors, like print jobs getting stapled together when you didn't ask for staples. The best practice is to reload your print driver any time odd errors like this occur.
Back to Top
What do I do if my laptop isn't connecting to my printer?
First, make sure the printer is turned on! The next thing we tell people is to check which Wi-Fi network they're using. If you're on a guest Wi-Fi at your office, chances are your laptop won't recognize any connections to a printer. The corporate Wi-Fi will be the one connected to printing options within your organization.
You've come to the end of the list. What can we add? Let us know in the comments below, and we'd be happy to add to this list! You can also contact the Imaging Help Desk for further assistance.
Learn About Copier and Printer Service at Loffler
Read More: 10 Copier and Printer Repair Service Do's and Don'ts

Molly Zarins is an Integrated Solutions Product Trainer at Loffler Companies. Her area of expertise is in production printers and Fiery systems (Fiery Certified Expert). She is also the team Color Specialist. Molly spends her free time exploring local restaurants and breweries with her husband, walking at the nature park by her home and going to concerts. She counts down the days each year until the next "Pantone Color of the Year" announcement, and on Saturdays she takes courses to learn Latvian.