Get Back to the Work You Do Best
Each organization has its own unique technology infrastructure. What is consistent throughout is that as you grow, so does the complexity of your technology. Headquartered in Minneapolis, Minnesota, Loffler's Managed IT Services team provides local, regional, national and international technology support for small- and medium-sized (SMB) organizations.

Find Out How Loffler's Managed Services Can Help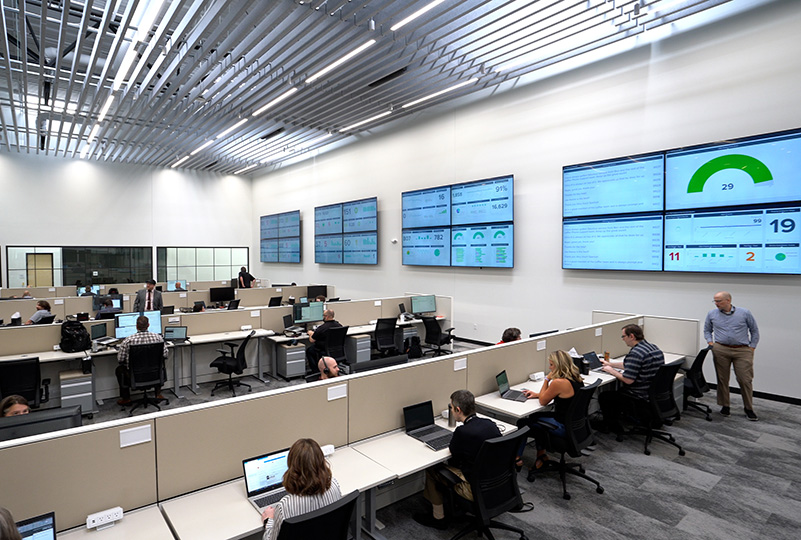 See Inside Loffler's Managed IT Service Program
Loffler's managed service program is designed to support SMB business goals while providing world-class customer service.
Proactive IT Security
Proactive IT security is an essential component of any Managed IT Services program. Managing important software and firmware updates can become a time-consuming task. Loffler offers three outsourced managed IT solutions package levels designed to fit your needs, whether you simply need to cover the basics of cybersecurity, or you require higher-level planning and strategy guidance to ensure your systems are secure.
Anti-virus & anti-malware

Security update deployment

& patch management

Vulnerability scanning

Awareness training

Dark web monitoring

Microsoft 365 security score review

Firewall inspection

SPAM filtering
DNS filtering
Unlimited Help Desk Support
Dedicated, professional help desk services give you the support you need in order to keep your business running smoothly. Loffler's award-winning help desk services are flexible and highly available, so you're always covered. A dedicated ticket portal is provided for requesting changes or additions to any of the services provided. More importantly, if you need a Loffler engineer to assist with a more urgent issue you have access to schedule an experienced engineer for remote or onsite assistance at competitive rates.
Monitoring, Alerting & Reporting
Your network becomes more complex as your organization grows. With the added complexity of wireless networks, security and BYOD, your network can be a headache to manage. Loffler monitors your network 24 hours a day with a dedicated team that processes and responds to alerts.
Loffler can audit, standardize and implement industry best practices for your network and set up an effective alerting process to keep tabs on your environment. The alerts can go to you or we can manage them on your behalf. As part of our service, monthly reporting is provided to assist in managing your technology environment.
Automated asset discovery

Monitoring servers, firewalls, networking equipment and

endpoints

Hardware health

Bandwidth monitoring

Hardware inventory

Software inventory
Backup, Recovery, Business Continuity &


Disaster Recovery

Services
Managed backup, business continuity and disaster recovery make up the three most important areas of data protection. Loffler can monitor and manage the entire data protection process. In the event that data needs to be restored, the Loffler team can quickly respond. Even if a critical server fails, we can have your server back online rapidly. In the event of a total disaster, our disaster recovery services can reduce potential downtime and get you back to business.
End-to-end encryption

Microsoft Office 365, OneDrive, SharePoint

Screenshot verification multiple restore options

Cloud virtualization
Managed IT Hosting Solutions
Flexible and effective hosting solutions can help your organization scale at the right rate for you. Loffler can audit, standardize and implement industry best practices to provide you with easy and secure remote access.
Public or private cloud

Microsoft Office 365 & Azure Active Directory

Virtual desktops

Virtual servers

Hosted SQL & apps
Collaboration & Access
Loffler's enterprise IT solutions enable us to centrally manage technology for you. Each service we offer is deployed and managed from our Network Operations Center (NOC), so clients don't have to purchase these services individually, keeping costs in check and creating a secure, optimized managed environment in which to run a business. Loffler's IT engineers work closely with managed IT clients, who appreciate having access to the tools and technology we use to maintain their systems.
Collaboration with Loffler engineers

Secure remote management

Real-time performance data

Review log & process details

Live training options
"I really enjoy having Loffler as our MSP. From top to bottom, I have good interactions. Most important, American Baptist Homes of the Midwest receives excellent service delivery and problem resolution from Loffler. Loffler has a deep bench, and a good network of experts they can tap when the need arises. We are lucky to have Loffler as one of our service providers."