Why Do Clients Choose Loffler?
Since 1986, Loffler Companies has been a Minnesota-based, privately held company dedicated to exceeding expectations by providing the best office technology solutions for your business needs. With one of the highest-rated service reputations in the country, and technicians and engineers specially trained on the products and services we offer, you can be confident your organization will always be productive.
The Best Office Technology Solutions
Whatever type of technology or service we provide for your organization, from copiers, printers, IT solutions, security, Unified Communications, dictation or Loffler Management Solutions, your satisfaction and success is our top priority. Loffler receives top national recognition year after year for our service and support, and we do what it takes to keep your business on track.
Top-Rated Service and Support
We focus our energy on providing great customer service: timely installations, quick and thorough service and maintenance and responsive support. We offer the smoothest implementation and delivery process possible and work to get you up and running in record time.
Solutions That Fit
One manufacturer doesn't have what you need, but another does? No problem. As an independent technology dealer, we can work with numerous manufacturers to tailor the best technology solution to meet our clients' needs. Whether you're looking for a specific product or a comprehensive solution, Loffler will have the right tools to help your business succeed.
Flexible Solutions, Billing and Financing
From the minute you say "yes" to Loffler, we guarantee a positive experience at all levels. We work with clients to find solutions, whether you have special
billing, delivery, service or technological innovation needs.
We provide top-level customer support that is unparalleled in our industry.
Flexible Financing and Leasing Options

Top-Level Rates

Regular Usage Analysis to Prevent Overspending

Personal Attention to Questions
Always Someone Available to Talk
We
understand the frustration of automated service systems.
When you call us for help, you'll speak with a real person located in our Bloomington, Minnesota, headquarters who is trained and ready to help resolve your billing, supplies, service, hardware or software questions.
Integrated Technology
While manufacturers may say they do it all, they often work with third-party vendors to provide solutions.
Loffler, as an independent technology dealer, has the freedom and the capacity to make your systems work together with customized attention to the needs of your technology infrastructure.
We provide innovative technology and services for organizations of all sizes.
Local Investment
We care about our communities. We invest profits in our local economy and donations of time and money are put back into the communities where we live and work.
Loffler also empowers and enables employees to give back to their communities through donations of their time and financial resources. Whether helping children, people with illnesses or a co-worker experiencing a challenging time in life, the Loffler team comes together to improve lives.
I Want to See the Difference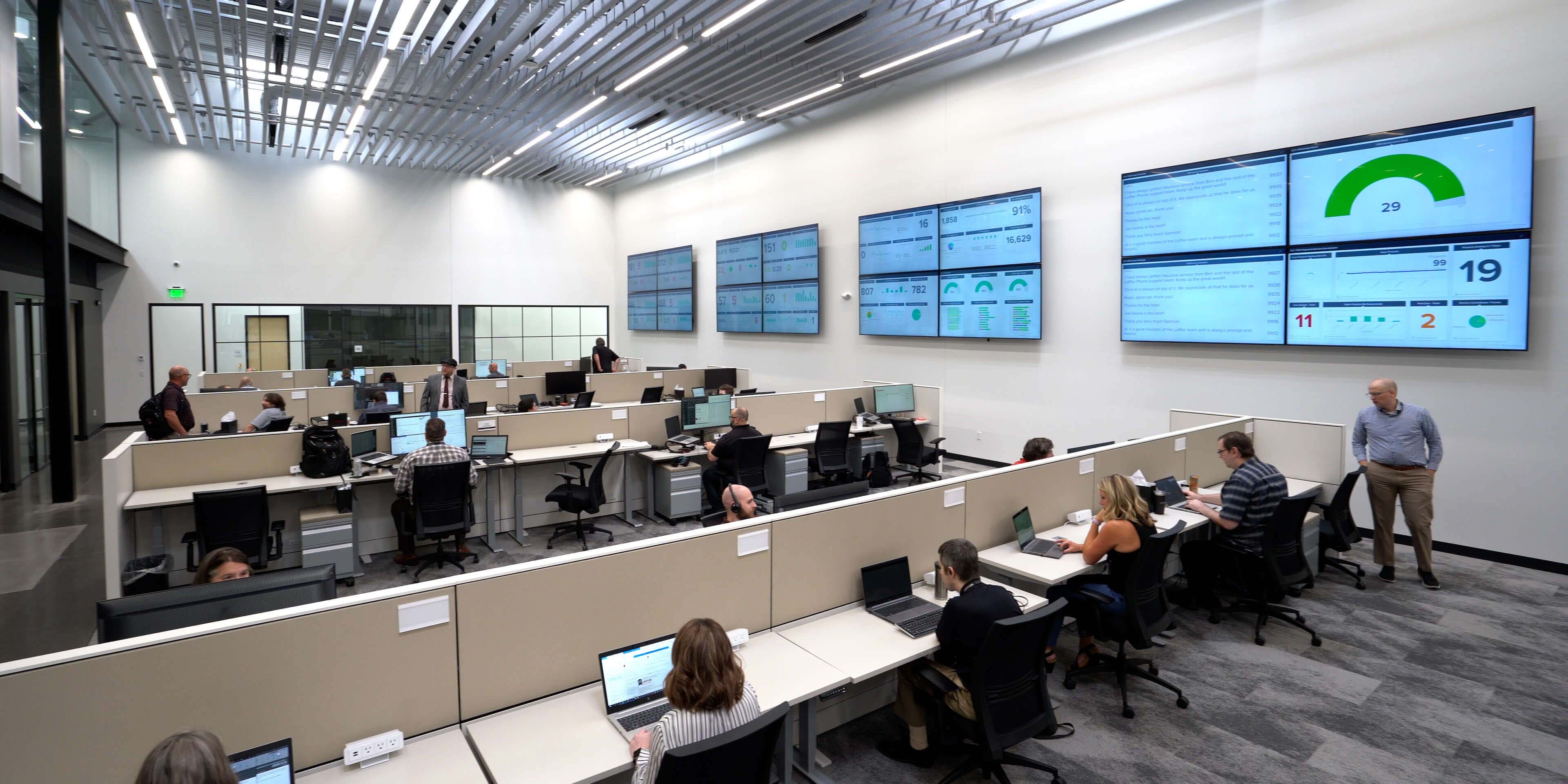 As a Diamond Level Service Excellence Award winner, Loffler has one of the highest-rated service departments in the country. Our over 86 full-time and specially-trained local technicians and trainers are certified experts on the products and services we offer, so you can be confident your business is always productive. Loffler is one of the only businesses with a local warehouse providing inventory for parts and supplies, while also providing the initial delivery of all customer equipment.
Rated #1 in the US for First Call Effectiveness
Loffler Is Rated Among the Top 10% Nationally in Service Response
Top 8% of Dealers for Having the Correct Parts with Us on Every Service Call
All Technicians Are Network Certified
3-Hour Copier Service Response Pledge; 4-Hour Printer Service Response Pledge

24-Hour Online Customer Portal

and Automated Meter Reading Options
Remote Diagnostics & Problem Resolution
From security, to the cloud, to a suite of professional services as well as phone and voice solutions, Loffler's IT Solutions Group will keep your organization's data, network, physical location and phones secure and running smoothly. Our Network Operations Center (NOC) is powered by dedicated support teams focused on cybersecurity and supported by 50+ engineers with 250+ technology certifications.
Nationally-Recognized by CRN Magazine as a Top IT Solutions Provider
The Most Comprehensive Mix of IT Solutions in the Midwest to Power Your Business
24-Hour Remote Monitoring
24-Hour Service Availability
National Service Reach
Over 10,000 Successful Implementations
Customized Performance Dashboards to Monitor and Manage All Loffler Technology
We're all over the place, day and night, and we're supported, day and night, by Loffler. I'm not sure how we would make it without the support that we get from Loffler. They're a great partner for us, and I just don't know if our goals would get met without them.

View Case Study