Certified Pre-Owned Copiers & Printers
Loffler's Certified Pre-Owned copiers and printers undergo an exacting certification process to meet factory specifications. With the benefits of new equipment and choices to fit any budget, our hand-selected devices meet the premium-level standards clients have come to expect from the nation's top service organization.
Choosing certified, pre-owned equipment means choosing equipment that has undergone a rigorous certification checkpoint process:
Functionality:

Settings restored to factory defaults
Performance:

Device tested for reliability and durability; fixing assembly/fuser unit refreshed according to manufacturer specifications
Operation:

Directional feeds, feeder, stapler, and punch assembly cleaned and calibrated; feed/separation units replaced; all clutches and motors cleaned and tested for proper functionality
Quality:

Photo imaging units refreshed according to manufacturer life cycle; optical components cleaned and certified; consumable component life verified and replaced as needed
Confidentiality:

Current software versions validated; hard drive wiped to remove any data stored on device
Appearance:

Exterior inspected and refreshed to manufacturer's standards
Amazing Reliability:

Backed by our Award-winning service and support
Every Certified Pre-Owned Copier begins as a low-usage device in excellent condition.
Our specially trained technicians put each machine through an exhaustive series of tests and examinations, helping ensure reliability, quality, and client confidence.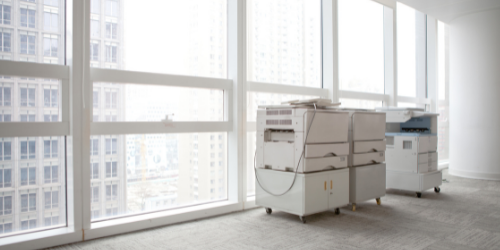 We'll fix it the first time Rated #1 In the US for First Call Effectiveness
As the satisfied user of a Loffler Certified Pre-Owned device, your quality of service and support is unparalleled in the industry. All equipment is serviced by our full-time, specially trained local technicians who include technical analysts, certified manufacturer trainers, product segment supervisors, and service managers. Our nationally recognized service department has been rated number one in the country in First Call Effectiveness. That means if a problem does arise, we are best at fixing it the right way the first time, and for an extended period!
"Wonderful service – speedy and completely fixed the problem. In a world where people often have to wait for two hours on the phone to speak to a real person, I was able to get help immediately. Your technician knew what he was doing, was very polite and kind, and fixed the problem in record time. First rate service!"