9 Office Services to Let Someone Else Manage
Running a successful office requires the management of
many
components.
A number of those components support your mission and are critical to your success but consume so much time that essential tasks and responsibilities can't be completed. Shouldn't you focus on what you provide, what you make, who you help, and not spend time managing the back office?
An alternative to a staffing agency, the number one reason people outsource office services is to gain back time. Time that allows you to use your expertise and focus on your core competencies.
Often, it doesn't make sense to hire office staff who are experts in:
Instead, you can outsource that expertise to someone who can handle any or all these needs for you.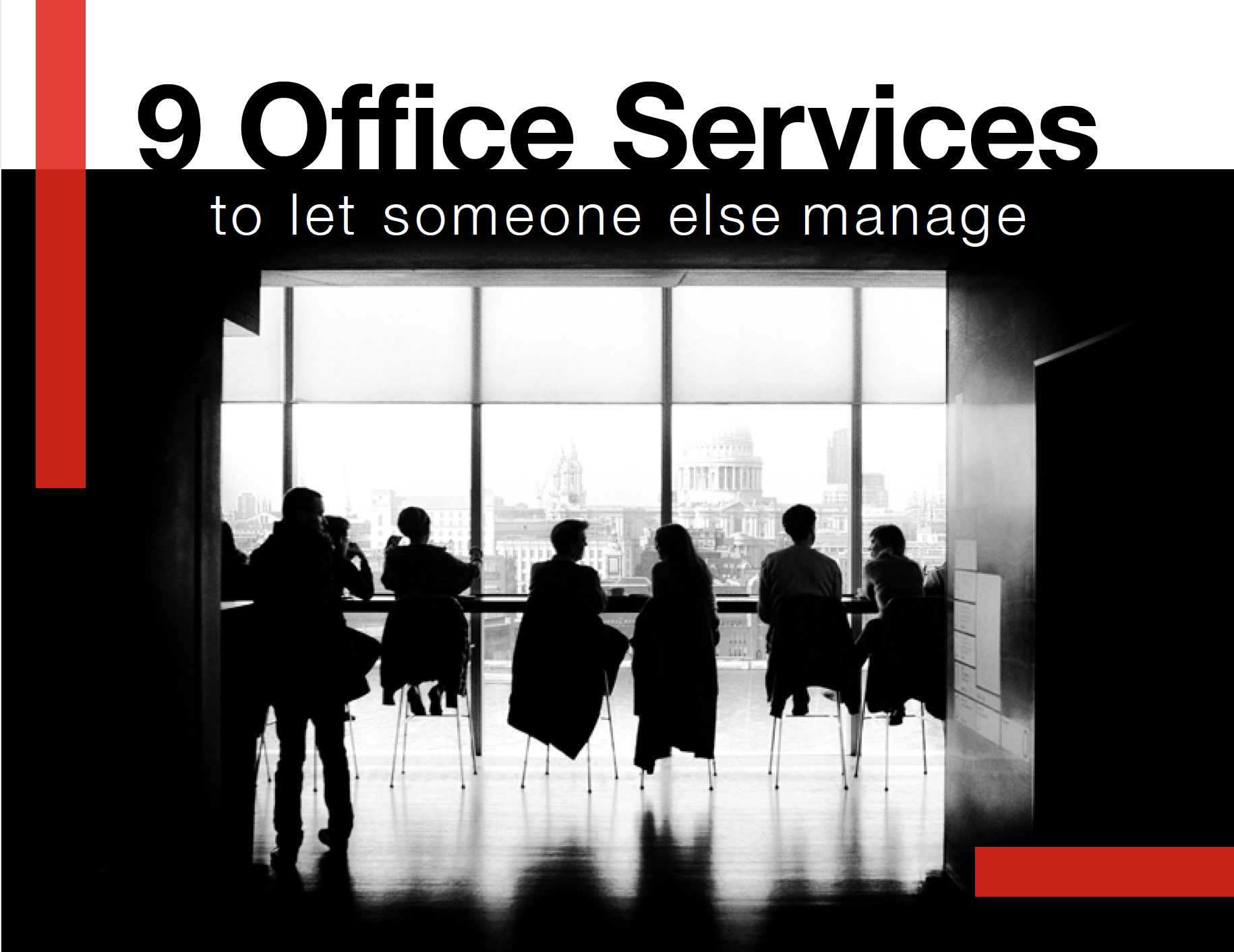 No time to read? Download the PDF Now
1. On-Site Document Printing and Production
With on-site document printing and production, you gain professional copy center management, instead of using your own employees to manage your copy center. This brings expertise for true print-on-demand and customization capabilities to print in the way and the quantities you need.
Printing effectively means balancing three fundamentals: Quality, Timeliness, and Cost-Effectiveness. What kind of expertise comes with on-site document printing and production? Management of your document workflow and governance to manage each department's printing. More governance leads to greater cost controls. This means reduction of unplanned, undocumented printing work, minimizing rush jobs and knowing what to print on-site versus off-site.
One example of where on-site document printing and production is useful is in a school. If each teacher prints their own materials, that means teacher time is spent on printing. If their printing were to be centralized, less time is spent preparing lesson materials, and more time is dedicated to teaching. You also see on-site document printing and production across industries like healthcare, legal and manufacturing, among others.
On-site document printing and production can improve your statement/invoice printing workflow, take care of high-end marketing work and handle technical manuals and education workflows.
Do you have mailing expertise? Most likely, the answer is no. Most organizations do not have someone who can keep up with the changing regulatory landscape of mailing. Mail room management will ensure your critical mailing gets done in a timely, cost-effective manner.
Most people don't think much about mail. It's often seen as business as usual and falls to the bottom of the priority list. They don't seek alternative methods to better handle outgoing mail, like pre-sorting. But mailing is an expensive business process, so it's important to keep an eye on your bottom line.
Mail room management also applies to shipping and receiving. Mail room management ensures mailing is on time, correct and following regulations. With correct mailing and shipping procedures, the whole process becomes cost effective.
Mail room management can also involve:
Parcel lockers, which are lockers with code access for people to receive packages.

List cleansing, which makes sure your mailing list is clean. Think of all the business reply mail sent to a wrong address and returned to you, the sender. Software cleans the list based on current records to make sure your list is clean. It fixes and changes addresses to account for moves. List cleansing gets your mail to the recipient correctly and faster.
From mail equipment, supplies and software, to finishing equipment and supplies (paper, binding equipment, things you need to perform printing, finishing), label and envelope printing equipment, shipping and receiving automation, paper and envelopes, Loffler has your document needs covered.
3. Records Management & Document Management
Records management is the care of paper files. Records management involves checking in, checking out and checking for conflicts on documents. These are simple processes, but at the same time complex. Records management also can include document destruction, storage or scanning.
Document management is putting paper files into a digital format. Then, indexing them properly and having the ability to search for keywords and phrases. Document management applies both to back-file scanning of existing documents and setting up a system to handle scanning and digitization of documents.
Day-forward scanning and processes direct into a document management system, which brings more power, speed, workflow processes and automation.
4. Office Services and Hospitality
Many of the services covered above qualify as office services. Office services also applies to receptionist duties. This can mean filling in for receptionists during breaks or away time. Office services also involve conference room management where someone is dedicated to setting up audio/visual equipment and drinks, and making sure the space is clean before and after meetings. Office services can also mean shipping and receiving for your mail room.
Hospitality means having one person handling all your catering requests and requirements. Having one person handle ordering increases effectiveness, controls costs, reduces waste and gives time back to people in your organization.
5. Printer Fleet Management
Printer fleet management means your employees aren't clearing jams, refilling paper or replacing toner. Instead, a person is on-site maintaining any and all print devices. They're the first call for support. That person is trained on how to fix the little issues that arise and place service calls as needed. This means true proactive support, cleaning the device on schedule and stocking paper before it runs out.
Printer fleet management can increase uptime. You're not waiting for a technician to arrive and your device is more usable. This service could look different depending on your needs. If you need a little more technical help, it can mean PC-based support for print drivers, with a direct link to your IT department. Think reloading drivers or rebooting servers. This service takes care of printer-related issues so your IT team doesn't need to (these can take 30-40% of their day).
6. Legal Document Services
Legal document services will overlap with many items already listed on this page. But the legal industry deserves special mention, because they need high-performance individuals to focus on documents and office services. Lawyers and their staff need to focus on practicing the law. All the other back office work can be outsourced.
Legal is still a very document-heavy industry. Stakes are high for winning and losing; clients have a lot on the line. Work needs to be done not just right, but perfectly. For the mundane tasks that are essential to how a law office runs, it works better to have people outsourced, so you don't have to manage them.
Legal document services include printing and document preparation, securely scanning documents, copying, faxing, document retrieval, records management, mail handling, inventory control, shredding support, knowing how to work with retention requirements that can stretch to 7 or 10 years, even printing posters and mounting for presentation in court appearances.

Outsourcing these tasks mean the talent acquisition, the hiring, the training, the tasks themselves, employee retention and, when needed, off-boarding, are handled for you.
Many organizations have mountains of paper and boxes in their back office for regulatory compliance. Scanning services provides a cost-effective approach to reducing the number of documents in your office.
Why are paper documents a problem?
Going through filing cabinets to retrieve documents takes valuable time.

Boxes of paper take up valuable office space.

Offices experience downtime when searching for documents.

Security is a concern with only a key to lock away paper documents.

The risk of fire and water damage are real concerns for paper documents.
Some organizations choose to pay for off-site storage, which may take care of space and security concerns, but accessing those files can create considerable downtime.
Scanning is the best solution for many file types. The problem is most organizations don't have the human resources and time available to get the scanning done. That's why letting someone else handle it is a viable option for many organizations.
Back file scanning, meaning catching up on those mounds of paper by scanning and digitizing them, takes care of these concerns. Scanning services provides trained people, managed by an outside organization, to take care of the scanning for you. Once documents are scanned and digitized, they are easy to access, protected and stored affordably.
Scanned files can either be stored in a document management system for automation, or scanned into folders on your network, to be handled manually.
8. Graphic Design Services
When you need crisp, innovated graphics, where do you turn? Is there a designer employed by your organization, or do you outsource?
Graphic design services are a great option for organizations who need a professional eye sometimes, but not full time. With graphic design services, a graphic designer will help you create the message you want to deliver to your client. Many organizations don't employ a graphic designer in-house, because they do not need full-time expertise.
When design requirements arise, this is an easy service to outsource to a professional, who will organize, illustrate and bring your vision to life. They can even help find the most cost-effective and efficient way to distribute your design to the public.
Sometimes you don't have the technology or the resources to productively or cost-effectively produce documents you need.
There are alternatives to printing on-site by using resources to do this for you. If you don't have the resources to do the job, outsourcing is a great option. You likely have many good print shops that offer print services in your area.
Print shops excel at high-volume work, diverse paper types, wide format printing, envelope printing, label printing and more. Any of those big print jobs you have coming all at once or personalized printing you don't have the software to do. They can help you take a document from creation, to printing, finishing/assembling and even mailing/shipping to their destination.
Let Loffler Handle These Office Services for You
No matter your industry, the offices services listed above can be handled by an outside organization, meaning you don't have to hire, train or manage the expertise needed to handle these tasks in the best way possible.
Loffler Management Solutions (LMS) can provide people to handle these services for you. We manage the people. We manage the tasks. We're responsible for the outcomes we're contracted to achieve.
Contact an expert to get started today, or view our LMS case study with the Minnesota Wild: