An Alternative to a Staffing Agency: Five Reasons to Invest in Managed On-Site Services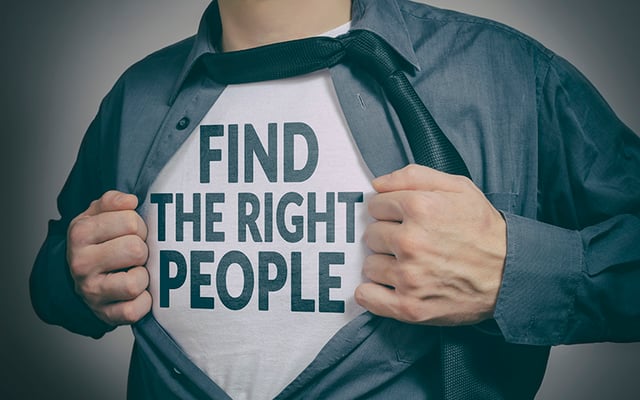 Your organization needs to focus on activities that grow and strengthen your mission.
Meanwhile, critical office support, print and mail functions often don't receive the focus or expertise they deserve. Too much time spent on these support roles can overwhelm and distract from your mission.
Support roles include activities common in most workplaces, such as:
Copying, Document Printing & Production
Records & Document Management
Office & Hospitality Services
Printer Fleet Management
Scanning Services
Should you consult a staffing agency to find employees to handle these tasks? Or should you consider an alternative? Learn how managed on-site services may be a better choice to allow you to focus on what you do best.
An Alternative to a Staffing Agency
Managed on-site services, often referred to as Facilities Management (FM), source, hire, train and manage support employees and teams for you. These employees complete critical business functions, giving you time to focus on the work that grows your mission and business, while providing you with the most efficient and cost-effective workforce possible.
Managed on-site services are an alternative to a staffing agency. They are useful to organizations that need help managing copy centers, print shops and mail rooms. Organizations needing document management, scanning, receptionists and other office services can also use managed on-site services.
Five Reasons to Invest in Managed On-Site Services:
1. Unload the Burden of Finding and Retaining Employees
Organizations everywhere are in need of people to run their copy centers, answer phones and work in the mail room. They need more than warm bodies to fill these jobs; they need competent workers to get the job done in a consistent and quality manner.
Finding these workers takes time, practice and patience. As of April 2019, the unemployment rate in the United States was 3.6% (Bureau of Labor Statistics), making the hiring process extremely competitive for employers. When you choose to work with a managed on-site service provider, you place the burden of finding, managing and retaining good employees on that service provider.
2. Find More Time for What You Do Best
Providers of managed on-site services will train and manage support employees for you. All the work that goes along with managing those employees is taken off your plate. Good managed on-site services will provide managers who visit with employees and clients regularly to ensure success.
Additionally, with managed on-site services, trained backups will automatically fill-in for employees when planned or unplanned absences arise. Instead of losing time being down a team member when an employee is out sick, another team member is provided.
Because you're outsourcing management of support employees to managed on-site services, you gain more time to focus on your core competencies.
3. Have a Long-Term Office Support Solution
People consider managed on-site services with long-term goals in mind, partnering with a provider for three to five years at a time. This allows for consistency in the quality of work being done.
Managed on-site services provide benefits and a career path for employees. These employees are not temporary, so they're not viewed by the offices in which they work as temps. Instead, the employees are part of a long-term office support solution and become part of the family, fitting in with the culture of your organization.
4. Gain Help to Handle the Little Things
Managed on-site services take care of the back office. Who handles the little things at your workplace? Who sets up new UPS accounts? Who makes sure priority mail doesn't get mixed up? Who takes care of printing? Does coffee just magically refill itself? Who welcomes and directs clients upon arrival?
With managed on-site services, these tasks just get done. Managed on-site service employees take care of everything that happens in the background.
5. Access Office and Production Services Expertise
Beyond the capabilities of any individual employee, managed on-site services help you access expertise in overall business processes as a gateway to every other offering a managed on-site services provider offers. This expertise from certified specialists can include document printing and production, mail room management, records and document management, office services and hospitality, printer fleet management, legal document services, scanning services, graphic design services and more. They provide these services for dozens of other organizations and can apply best practices to yours. This expertise should provide you with business process improvements, costs savings and cost avoidance.
Managed on-site services are designed to take care of long-term support staffing needs and provide a flexible alternative to a staffing agency, providing assistance wherever they can. Both have a potential place in your organization. Consider your needs and the best fit for you.
Learn More About Managed On-Site Services
Read More: When to Outsource Document Printing Services

Brett is the Client Based Services Director for Loffler Management Solutions (LMS). He has worked in the business services industry for over 21 years. Brett works with clients to help manage non-core activities and streamline processes to ensure maximum efficiencies. In his spare time, he enjoys embarrassing his three teenage children. Activities that fall into the category of embarrassing can include (but are certainly not limited to) walking, speaking, chewing too loudly and breathing. When not embarrassing his children, he also enjoys running, reading, traveling, trying new restaurants (code for he likes to eat) and doing volunteer work. He will also admit to long periods of sloth usually involving Netflix.