With the rise of remote work, the traditional office setup is becoming a thing of the past as more and more organizations transition to a modern workplace.
In today's blog, we'll discuss what the modern workplace is, how it benefits an organization's workplace and what to consider before migrating to a modern workplace.
What is the Modern Workplace?
"Modern Workplace" is a term used to describe organizations that have embraced the reality of digital collaboration, solutions and integration as the way of the future. The modern workplace utilizes technology to enable employees to work from anywhere, on any device, securely and seamlessly.
Driven by advancements in technology, changing attitudes toward work-life balance and a desire for more flexible working arrangements, the modern workplace has gained popularity in recent years.
This new way of defining the workplace has paved the way for technologies supporting automation and digital workspaces built for hybrid and/or fully remote environments.
Although several companies offer collaborative technology, Microsoft Modern Workplace has a variety of collaboration tools that are widely used by professional organizations. A few common Microsoft Modern Workplace tools include:
Microsoft Suite (Word, Excel, PowerPoint, etc.)

Microsoft Teams

OneDrive

SharePoint

Power Automate and Power BI
Utilizing cloud technologies offers organizations access to a variety of services that can help them grow with ever-changing technology demands.
Why Should Your Organization Consider Migrating to a Modern Workplace?
1. Ease of Collaboration
Collaboration is essential to the success of any organization, and a modern workplace makes collaboration easier than ever before.
Workplace collaboration tools include everything from video conferencing, instant messaging tools, project management software and file-sharing platforms, making it easier for individuals to communicate with one another on a day-to-day basis.
2. Increased Productivity
Collaboration and productivity go hand in hand, as a modern workplace is designed to boost productivity through providing employees with the tools and technology they need to operate more efficiently.
These tools allow employees to discuss business issues in real-time, expediting decisions and eliminating misunderstandings. They can gain real-time access to information whenever and wherever it is located with data sharing and content management solutions. Remote workers can access collaboration tools that look and work the same as their desktop applications, making them easier to use.
Implementing the right collaboration tools can help employees work faster, allowing them to complete tasks and projects more effectively than before.
3. Flexible Workforce
One of the biggest benefits of a modern workplace is the flexibility it provides. The pandemic accelerated existing trends in remote work, with many of today's employees wanting to work from any location, on any device, at any time.
This flexibility allows employees to work around their personal schedules and can also help organizations attract and retain top talent by offering flexible work arrangements, whether it's a hybrid or fully remote environment.
4. Increased Employee Satisfaction
By providing employees with the tools and technology they need to work efficiently and flexibly, organizations can create a more positive work environment.
Prioritizing employee well-being can lead to higher employee morale, lower turnover rates and increased loyalty to the organization.
5. Greater Agility
Implementing a modern workplace allows organizations greater agility, through responding quickly to changing business needs, staying competitive and driving growth.
A modern workplace often includes automation tools that can help streamline processes and reduce manual tasks. This automation can free up time for employees to focus on more strategic work, such as developing new products or responding to changing market conditions.
Similarly, cloud computing allows organizations to scale up or down quickly based on demand, easily add or remove resources as needed and reduce overall costs.
6. Emphasis on Diversity and Inclusion
A modern workplace can foster an environment of open communication where employees feel comfortable sharing their ideas and opinions, as well as being equally involved in and supported in all areas of the workplace.
Similarly, a modern workplace encourages cross-generational collaboration between colleagues. Training and development opportunities are available for all employees, regardless of their age or level of experience.
Working within the same toolset allows individuals to effectively communicate, filter information and share any beneficial information to generations that may be used to working with other tools.
Overall, having a workplace that emphasizes diversity and inclusion can bring different perspectives and ideas to the table, which can lead to innovative solutions for your organization.
What Should Your Organization Consider Before Migrating to a Modern Workplace?
Migrating to a modern workplace is a significant decision that can have a major impact on an organization's productivity, efficiency and overall success. Before embarking on this journey, here are some important factors to consider:
Culture
Before implementing digital tools, organizations should assess what their culture is and whether or not their workforce is a good fit for a modern workplace environment.
If your organization is hybrid or fully remote, you're most likely already utilizing cloud technology in your day-to-day operations. If your organization operates in an office environment work model, you may not utilize modern workplace tools that often.
Identify the key areas where modern technology can bring the most value, as well as your organization's readiness for change. By assessing your employees' attitudes and skills related to technology, you'll be able to identify which tools may aid your organization.
Current Infrastructure
It's important to evaluate your organization's current IT infrastructure, including hardware, software and network capabilities before migrating to a modern workplace.
Many organizations are heavily invested in on-premise hardware and infrastructure, even if they operate under a hybrid work model. When you begin moving systems to cloud-based software, such as Microsoft Azure, the way in which you invest in technology changes.
Additionally, it's necessary to assess any barriers that may impede adopting new tools to ensure that your organization remains compliant with industry standards.
Consider the different costs and management changes that may arise when migrating to a modern workplace and whether or not your organization is equipped to handle them.
Security Risks
A lot of modern workplace tools don't work like the tools they're replacing — i.e., traditional on-premise tools that are designed for people working in a singular physical office location.
If you do choose to adopt a modern workplace, it's important to implement proper security so that individuals can work remotely from anywhere while having safe access to the data they need to do their job.
Before considering a modern workplace, evaluate the security and compliance risks associated, such as data breaches and regulatory compliance, and establish a plan to ensure that your data will remain secure.
Training
While many tools may seem intuitive, proper training can ensure that your team is able to leverage the full power of collaboration tools.
Developing a comprehensive implementation plan that includes timelines, milestones and metrics to measure success helps to ensure tools are being implemented at an obtainable pace. By ensuring employees are onboarded to new systems slowly, and most importantly correctly, you'll be able to address any qualms they may have.
Next Steps for Your Organization
Transitioning to a modern workplace isn't a simple process and it isn't about simply installing a chat tool for your team, it requires time and intention.
Ultimately, modern workplace capabilities can come from anyone in an organization. For organizations to be successful, however, business leaders must build their culture around having mechanisms for all individuals to make process improvements and allow individuals to vocalize what they believe needs improvement.
Interested in learning more about modern workplace solutions for your organization? Contact Loffler to discuss your current IT infrastructure and organizational goals today!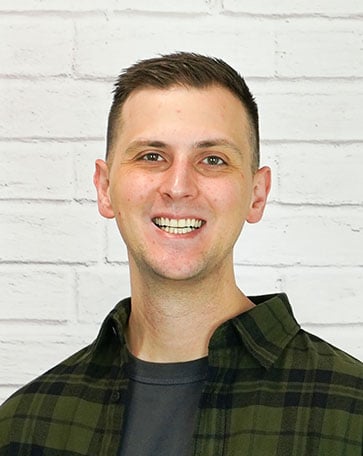 Cody is a Modern Workplace Engineer for Internal IT at Loffler Companies. In his role, he works within technologies that improve efficiency, functionality, communication and collaboration. He has a strong focus on automation efficiencies and takes pride in collaborating with others to develop and implement solutions that help to meet their expected outcomes. In his spare time, Cody enjoys attending live concerts, listening to vinyl, obsessing over stereo audio components, biking and spending family time with his wife and son. Little known fact? Cody once entered a lip sync contest and took second place with his best friend and their own rendition of "Don't Stop Believin'" by Journey, despite how much they practiced beforehand.