A Comprehensive Guide to Cloud Service Providers
Everything you need to know about the cloud.
"The Cloud" is something most of us have heard of, but not all of us fully understand. Oftentimes, when you ask questions about the cloud in an effort to understand, you'll be met with overly-technical jargon that makes your eyes glaze over. This guide is not that.
Our goal is to help you understand exactly what the cloud is, what cloud service providers offer and how to make a decision on which cloud option is right for your business.
In this guide you'll learn: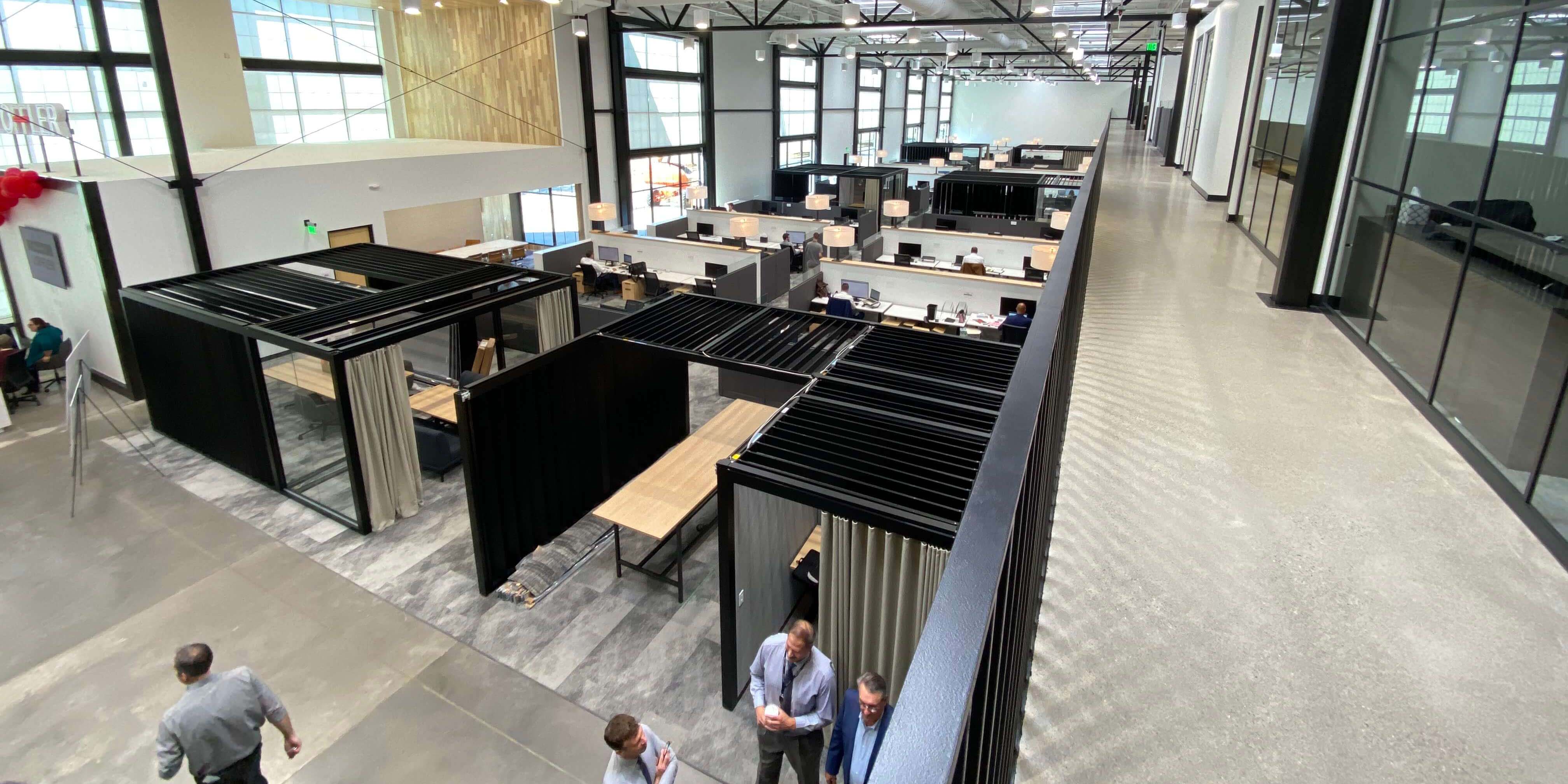 The cloud is where millions of people and organizations around the world host and/or store data. While the cloud can seem like an abstract idea, many people use it daily without thinking about it. Netflix and Gmail are cloud-based applications. Google Drive, Dropbox and Amazon all offer cloud storage. Tools like Microsoft Office 365, Azure, Amazon Web Services, Google Cloud Platform and private cloud options host data for companies around the world.
The opposite of the cloud is hosting data and applications on your own equipment, like a network server or personal computer. We often call this hosting "locally" or "on-premise." This would mean storing all files, music, software, video and pictures on your personal computer. Or in an office, storing all email, backup files, applications and documents on network servers.
Saying data is stored in the cloud is the same as saying data is stored on servers managed by someone else and not by you. The cloud takes its physical form in that of data centers, which are massive buildings full of servers located around the world. Instead of storing data on your personal computer or within the physical confines of your office building, it's stored off-site at one of these data centers.
With the cloud, you're not limited to a network connection if you need to access those files. Users with the appropriate credentials can access data from anywhere with an internet connection.
Organizations want to focus on their goals and mission. To do that, they need email, file access and secure file storage. Employees need to share and collaborate on documents. They need efficient communication tools.
These requirements need some form of information technology (IT) to succeed. If an organization hosts everything itself, they're responsible for hiring people to manage computers, servers, applications and network security.
Instead of hosting your infrastructure on-site, the cloud hosts it for you at another location. The cloud provides all the background infrastructure needed and takes care of maintenance, updates, security and support.
Benefits of moving to the cloud
Moving your business to the cloud has many benefits. These include scalability, secure access from anywhere and making enterprise solutions affordable.
Learn more about the top reasons to move to the cloud:
Cost-efficient and stable data storage

Resourceful development and testing environments

Easier collaboration for users

Simplified application hosting

Minimized resource costs

Rapid implementation and time-to-value
What solutions does the cloud offer?
The cloud offers another way to host, store and back up data, and is useful for many business functions, including phone systems, document storage, video surveillance and cybersecurity.
Storage & Backup
With the explosion of data growth, many organizations find they are running out of space. Whether you are you simply trying to keep your data secure offsite or you need to spin up a recovery server in the cloud. All those emails, invoices, pictures, videos and spreadsheets need to be stored somewhere, and they need to be safe. Cloud backup offers recovery time and recovery point options to fit your needs and allow you to rest assured your data is protected and available when you need it.
Loffler has the expertise to design and implement a storage and backup strategy using a private or public cloud that fits your needs and your budget.
Email
Email is often the first and the easiest jumping-off point to the cloud. Moving email to the cloud means moving storage of archived emails off internal servers. This can free up a lot of space – sometimes two or three terabytes – and may even eliminate the need to buy more storage. Once email is hosted in the cloud, you have email storage, backup and security covered.
In a cloud migration, the upfront planning is the most critical phase of the project. It accounts for user count, expected user change, review workflows, filters, archiving, backup, bandwidth and use of email marketing.
Loffler assists clients in transitioning email to the cloud; use our experts to make your project successful.
Data Security
The cloud can be leveraged as a premier cybersecurity tool, offering enhanced security without add-on applications. While the cloud provides the tools to encrypt and secure data, ultimately it is the responsibility of the cloud user to properly implement and follow best practices.
Loffler can assist in implementing and managing your risk of using one cloud or many clouds.
Monitoring
Plan and implement monitoring tools to manage your cloud infrastructure effectively and efficiently. You can decide if the ongoing monitoring and alerts should come to your internal team, or if you'd like to have a managed service provider like Loffler help.
Loffler can assist in the planning, implementation, and monitoring of a cloud solution. In addition, you have full access to our ticketing portal in the event you need technical assistance.
Server Hosting
"Moving to the cloud" can sound like an abstract statement. What does that mean? The plan becomes concrete when you can define where you're moving to. In other words, which cloud provider will host your data.
There are several options to consider when choosing a cloud provider. Cloud providers include Amazon Web Services (AWS), Microsoft Azure, Google Cloud Platform (GCP) and various private cloud providers, all of which offer differing strengths. One might offer a variety of services, while another might better support the applications you want to use. One may offer simplicity, while another is highly customizable to your needs. Making the right decision for your unique computing needs is important to making the move successful.
Loffler proudly assists clients in identifying their cloud server hosting needs and providing them with world-leading cloud hosting options.
Disaster Recovery & Business Continuity
Disaster recovery is often used as an umbrella term. But you can break it into two objectives:
Disaster Recovery

– Being able to replicate a copy of your data after a flood, fire or other disaster, whether a single email or an entire server. Disaster recovery saves data.

Business Continuity

– A plan for getting an organization up and running after a disaster, after the business is gone. What must happen so you can keep working?
Along with managed backup, business continuity and disaster recovery make up the most important areas of data protection. Do you have a plan in the event of a disaster? Your data may be backed up offsite, but do you have the resources in place to keep your business running? Can you bring your business-critical applications back online in a timeframe that matches your business needs?
Cloud solutions enable disaster recovery and business continuity. If the building burns down, your team needs only to get to the internet for their data – that could be at home, the library or even the coffee shop.
Let the Loffler experts assist with this mission-critical planning.
Business Phone Systems
Cloud phone systems — often called Unified Communications as a Service (UCaaS) — improve efficiency and profitability for many organizations. With UCaaS, maintenance, phone lines, the phones themselves and phone system features are all included in a monthly subscription. This can give a business enterprise-grade phone system features at an affordable price. Offices can now use mobile devices with their corporate system, share files, instant message and have the flexibility to scale their solution as needed.
Loffler can help you determine the cloud phone system option that best fits your needs and budget.
Business Security Systems
A cloud security system will offer secure mobile access to your security system at a predictable monthly cost. We often urge people looking at their video surveillance system to consider cloud or hybrid cloud video surveillance, because they encompass many of the security system features businesses have come to expect, while offering remote access, network security, management and cost control.
Loffler delivers cloud-managed physical security solutions designed to mitigate risk and safeguard an organization's most important assets. With video surveillance, access control and video monitoring solutions, we leverage the cloud to bring our clients and partners the most reliable and intelligent security available.
How to determine if the cloud is right for you
Organizations have many choices for where to host data including cloud, on-premise, Hyperconverged, software as a service (SaaS) and platform as a service (PaaS) solutions. You do not want to be rushed into a solution and then have promises – like cost savings – that are not realized because the right questions were not asked in the planning stages.
Your infrastructure can be designed around any of the above-mentioned solutions, and our job at Loffler is to help our clients find the option that fits them best and help them succeed. The following is just an example of factors that will influence whether the cloud is right for you:
Where you are in the IT equipment lifecycle

Whether you prefer an

operational expense

or

a capital expense

Team bandwidth to maintain and secure on-premise solutions
Any option will have its trade-offs. Between strategies for implementation, configurations, layers of security and risk, you don't know what you don't know. To decide which is best for your organization, be objective when comparing options.
Many do not understand how secure and easy-to-use cloud computing is right now. The more understanding there is behind how easy the cloud is to use, the more it will gain popularity, because the cloud simplifies everything.
Cloud computing offers the agility and efficiency to roll out new services quickly and expand your infrastructure. But many fear the cloud will bring a multitude of security issues.
The cloud can give you an effective security solution for today's cybersecurity risks. Patch management, staying compliant, conducting hardware and software inventory – it's all important and vital to an organization, but it's a lot of work to maintain. That's the kind of thing you want to outsource to the cloud and let machines and other people do for you. With the cloud, software updates are sent out automatically, without an IT person having to go from machine to machine to update them.
Data centers where cloud data is stored are secure and highly protected, and data is stored redundantly at data centers in more than one location, meaning if the data center where your data is stored for some reason is not functioning, your data would be backed up at another data center located elsewhere in the country or world.
Costs

and monthly subscriptions
The cloud is offered in subscription-based technology plans with set monthly fees. Many cost conversations for cloud solutions come down to preference: do you prefer capital or operational expenditures? Often, users prefer the monthly operational expenditure of the cloud over having a large upfront cost of a capital expenditure with an on-premise solution. When hardware or software needs replacing, your monthly payment stays the same.
Consider all potential costs when choosing which IT solution is best for you. When you're considering cloud options, compare your quoted monthly payment to what it costs your company to acquire, maintain, upgrade, fix, power and cool your internal options with an on-premise solution.
Cloud can offer cost saving advantages in many areas, especially when the solution comes with backup management, disaster recovery, security, functionality, increased speed and uptime. Many organizations find that the cloud saves them money, because the enterprise-grade features they're after are unobtainable if they were to host them on-premise, but they're affordable with a monthly cloud subscription.
The hidden value of the cloud
It's important not to overlook the labor hours saved when you go with a cloud solution. IT teams are busy. They're on request overload and they're having trouble retaining or hiring IT team members. The wrong selection can cost an organization a great deal, including lost wages, time, training resources and lowered team morale. These are common issues found in organizations today that the cloud can help solve.
Cloud solutions help lower the day-to-day pressure on IT team members. The top labor-saving reasons for moving to the cloud are efficiency, simplicity of use and access. Cloud services can help fill gaps in your IT team by taking over handling of your storage, backup or security needs without you having to hire someone new.
Cloud migration best practices
You've decided you'd like to move to the cloud. Now you need to migrate your data to the cloud. How do you do that? We put together this list of best practices for a cloud migration to help get you thinking about all the steps and gotchas involved. In short, you'll need to:
Assess what can be migrated separately

Decide what to rebuild and what to relocate

Consider hybrid cloud architectures

Pick a move date and work your way backward

Get vendor sign-off on all planned changes

Have a roll-back plan

Adjust your new environment based on real world performance

Secure your cloud systems up front

Perform quarterly and yearly architecture audits of your cloud environment
There are also many details to consider including permissions, access, backup, licensing, testing and pricing, that we can help you work through.
Many organizations turn to an MSP (managed service provider) like Loffler to handle the migration for them. We have the expertise to determine which applications should be handled individually, what migration strategy works best for your systems, where hybrid cloud options could apply, what to do in the event that the migration needs to be abandoned, securing your new cloud solution and more.
While it's possible to migrate to the cloud without the help of a cloud expert, it's not typically recommended. The initial set up of your cloud environment can determine how effectively it can be used, not to mention how seamlessly the transition will go. At Loffler, we've helped many businesses replace their servers with cloud-hosted alternatives. When looking for a cloud expert to help you with your migration, you'll want to look for someone who has experience with the cloud service provider you've selected (or if you need help making your decision, they'll be able to point you in the right direction).
Loffler's Cloud IT Solutions provide strategies for leveraging the cloud effectively to ensure solutions meet required security and compliance requirements while balancing cloud solutions with onsite services. Our strategies will eliminate integration headaches, vendor miscommunication and financial waste due to redundant or overlapping services. Loffler's experts will help you develop a plan, implement it and support you through it all.