A Quick Guide to Office Copier & Printer Options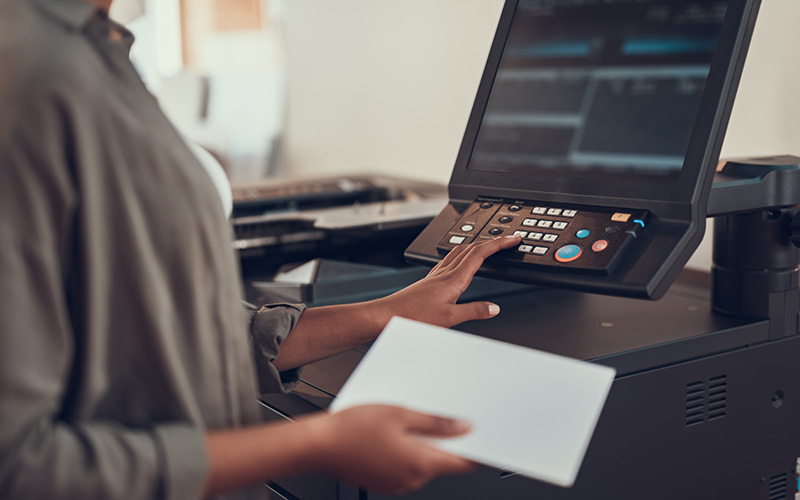 We covered the basics of what you can expect an office copy machine or printer to cost in a recent post. But we mentioned in that post that there are factors – options and accessories – that can drive the cost up or down.
In this post, we'll cover common copier and printer options and accessories you may need to make the device(s) you choose fit the needs of your work environment.
You have many options that impact the usefulness and performance of your office copy machine or printer. Some of these options are physical add-ons to your equipment, while others involve software and service. Let's looks at some of these options.
Paper Trays
Consider the number of paper trays (also called paper drawers) you'll need on your machine. A copy machine may come standard with one or two paper drawers, and you can add on more drawers. From there, you can add additional paper feed cabinets or paper decks. The range of paper supply options can go from 550-page paper capacity, up to 6,000+ page paper capacity with an added-on paper deck.
Why would you want your machine to hold more paper? If you're printing at high volumes, it prevents print jobs from having to stop to reload in the middle, saving your employees valuable time. Additional paper capacity will result in a higher-priced machine.
Output Trays
Output trays catch the paper being printed, so you can walk away while documents are being printed without the output tray overflowing and papers falling to the floor. You can choose to use the standard number of output trays that come with a machine or upgrade to allow for higher output capacity.
Faxing
You'll often see office copy machines with print, copy and scan abilities. You can also add faxing to that mix. We often call office copy machines multi-function devices (MFDs) for exactly this reason – they accomplish a variety of tasks. You have the option to add on an analog fax board or an enterprise fax solution to accomplish your office faxing needs.
Finishing Equipment
Many organizations need their copy machine to do more than simply copy and print. Finishing options include staple finishers, booklet finishers, folding finishers, tri-fold finishers and hole punching finishers. Think about the types of documents your office needs to print and how they need to be finished. What projects do you do regularly or even annually, and what finishing do they require?
Media Types
Some offices need to print on standard office copy paper, while others need to print on card stock, vellum or other media types. These needs dictate which copier you will ultimately choose. Like with finishing equipment, consider the daily, monthly and annual needs of your workplace when choosing a copier to make sure it can accomplish the varied needs of your office.
Accessibility
Many copiers have been built with accessibility in mind to comply with Section 508 standards. They consist of features that make the copier more usable for people with differences such as sight, hearing, touch and learning styles. From Braille labels, to voice guidance and adjustable screen heights, you can find a detailed list of accessibility options here.
Printer Security
You don't want a copier or printer that's connected to your network to allow a hacker into your network. We have a blog post about how that happens (and it happens more often than you think). Some machines now come standard with security features to stop malicious actors in their tracks, and there are ways to increase endpoint security in all copiers and printers.
Workflow and Secure Print Technologies
Another facet of print security is the ability to make documents wait until you are present to print. You can print from anywhere (your desktop, home, your mobile device) and only release what you want printed after authenticating once you're at the machine. Do this by either swiping a badge or entering a pin code. Secure print technologies also come with reporting features, cost allocation abilities and Active Directory integration. These features can be extra helpful to an organization looking for a secure printing solution for work-from-home employees.
Integrations
Integration of applications to your copier or printer expand and enhance its abilities. Consider the advantages of being able to scan documents and have them automatically sent to an electronic document management system where they can be classified, organized and searchable. Integrations also exist to increase cost control, security, scanning directly to accounting software, core systems or third-party storage options (OneDrive, Dropbox, Google Drive).
Repair Service
We wish copiers and printers could run forever and never need maintenance. But what happens when your device breaks? Many printers and copiers are sold with maintenance contracts so you don't have to worry about finding someone to repair your machine when needed. These repair costs are decided at the time you agree to buy or lease the device, so there are no surprises at the time a fix is needed. Some dealers offer device as a service (DaaS) plans that offer unlimited copies, monthly service and support, all on one invoice from one vendor. Learn more about service and repair here.
Lease vs. Purchase
Whether you lease or buy office equipment is up to you. Some organizations prefer a capital expense, while others want an ongoing operational expense. Considerations when you're making the decision to lease or buy a copier are how it affects your taxes, whether you prefer a capital or an operational expense and whether you're planning to grow and expand your business in the coming months and years. Read more thoughts on leasing vs. buying a copier here.
Managed Print Services
Printers can be a huge burden on an organization. The more printers you have, the more there is to manage. Are they secure? Is printer placement optimized to help control costs? Are you using too many vendors for toner? Who orders toner and when? How do you report meter readings? Managed Print Services (MPS) provides a solution to these issues, which can often burden an organization's IT team. Advantages of MPS include printer security, controlled costs, eased IT staff burden, consolidated devices and vendors, automated supply fulfillment, automated meter readings and more.
Training
What good is having a fancy new printer, copier or MFD if no one knows how to use it? Having proper training for your new device, as well as affordable access to ongoing training as needed throughout the device's lifetime, is important to ensuring you're making the most of your purchase. Proper training can show you how to set up default print settings, how to use your machine's accessories (such as booklet folding or hole punching), how to print envelopes and tips to keep your machine running optimally. Working with a partner who provides top-notch training is key.
So, after reading all of this, what exactly do you need? We compiled a workbook of common questions we use to assess our clients' print needs, and it's available for download here. Use it to help your organization make the best technology decisions possible.
Learn About Copiers and Printers at Loffler
Read More: How Managed Print Services (MPS) Can Save You Thousands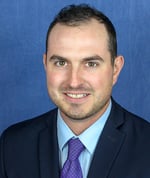 Alex Nicholas is a sales manager at Loffler Companies. In his role, he works with businesses to find the best fit for their office technology needs, and his expertise spans copiers, printers, document workflow software and IT solutions. In his spare time, Alex enjoys spending time with his family, golfing and cheering on any and all Minnesota sports teams.