Updated April 2021
The COVID pandemic has left many businesses with a "new normal" as employees continue to work remotely, or only spend a limited amount of time in the office. This change makes it difficult, and in some ways impossible, to share documents with colleagues. The need to move analog practices to digital is at an all time high...it is critical to business success.

We can't ignore the fact that information needs to be stored, secure and retrievable. Think about all of the processes your organization needs to document and all of the cabinet space filled with paper files in your office, that hardly anyone is able to access. Faxes. Invoices. Emails. New hire forms. Customer contracts. Business continuity plans. Statements. Reports. These processes still need to happen, but the old way physical paper pushing from one department or individual to another has to be altered. We have provided a few simple steps to get started with your digital business transformation.
-----------------------------------
Original Post (Pre-pandemic) December 2017:
No one wants to work in a disorganized office. Think about the last time you had to dig through a pile to find a form, email or note. Clutter can stunt productivity, halt communication, increase your expenses and slow your growth.
Managing increased paper demands is just one challenge that faces a growing business. To keep up, it is essential to scale business processes and operations to fit new needs.
Have you considered transforming your organization to a digital business format? Instead of continuing to deal with file cabinets that are too full or rifling through misfiled paperwork, there's a better way to handle your paper storage needs.
Here are 4 steps to begin a shift from paper to digital:
1. Hold Internal Discussions
Every department in your organization should have the opportunity to detail their struggles with paper documents and manual business processes. This will help you uncover concerns that would otherwise go unmentioned. You can then compile a list and evaluate what processes encounter the most manual intervention. Examples of manual intervention include data entry, manual workflows (walking documents from one desk to another) or scanning documents multiple times. All of these pain points are symptoms of a paper-filled office.
2. Assess and Upgrade Your Technology
The best time to evaluate your current infrastructure is before you make any changes to it. Can you leverage resources you already have to improve efficiency throughout your organization? Identify old and inefficient office equipment such as printers and copiers that cost a lot to print from and upgrade them.
Examples of increasing efficiency in your environment include dual monitors, desktop scanners and PDF editing tools. As you move to a digital office environment you will also want to think of digital storage needs. Understanding your technology infrastructure will allow you to plan and budget for the digital transformation.
3. Adopt & Implement Document Management Software
As you scan documents and store them onto a network file folder structure, you will soon find trouble with managing all the files in the folder. Each employee may have their own naming convention for documents resulting in an inefficient environment for searching and retrieving. Employees can also misfile or delete documents inadvertently.
A document management system can help you improve your file storage system with the following benefits:
Centralized repository with standard naming conventions
Security restrictions allowing for tighter controls on document access, which mitigates risk for data leakage.
Instant access to documents from your work station with the electronic filing cabinet. No more sifting through the paper drawers or navigating a confusing landscape of network file folders, because information will be at your fingertips.
Facilitation of quick and efficient business decisions, resulting in increased productivity and reducing your business process overhead.
4. Training
A solution will not work for you if employees don't know how to use it. After implementing a content management software system, ensure your investment is being maximized by offering clear, concise and accessible training. If employees are not properly trained, they will revert back to their paper-filled bad habits because they "don't know" how to utilize this newly implemented technology and they will be frustrated because they do not understand it. Good training is critical for maximizing your investment in a digital transformation.
With your sights set on a digital business, this video explains how Loffler and Square 9 can help save time and money in accounts payable automation, accounts receivable management, human resources on-boarding, contract collaboration and more.
Loffler is your digital transformation partner. We help organizations transform into a paperless environment, so they can focus less on pushing paper, and more on what they do best.
Interested in learning more about document management?
Read Next: Which Document Management System Is Right for You?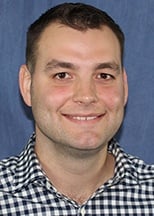 Jacob is an Intelligent Automation Specialist at Loffler. His passion is to drive digital transformation in customer environments to help organizations realize significant return on investment and improve their team's quality of work/morale. Jacob has been in the digital transformation space for nine years, and with Loffler for seven years. He is a father of four and enjoys coaching his kids' baseball and softball teams, as well as spending time outdoors with his family, especially at the lake.