COVID-19 Temperature Screening Solutions
Temperature Screening Kiosks and Walk-Through Temperature Scanners
"We love our kiosks. They are truly a wonderful solution for our school district and our daily battle with COVID-19."

Automated Temperature Screening
+/- 0.9°F accuracy
and contact-free

Alert Notifications
Emailed, on-screen
and/or audible

ID Badge & Ticket Printing
Customize with user ID, timestamp, approval for entry and more

Access Control Integration
Secure door access
after approved
temperature reading

Customizable Reporting
Push temperature
records to SQL database

Data Storage Planning and Security
Store and access
temperature screening
data securely
Temperature Screening Kiosks & Walk-Through Temperature Scanners
All organizations need to ensure health and safety as they reopen and return to their offices, factories, buildings and other workspaces. They need effective and highly-visible solutions and are turning to fever detection as an essential way to identify who may be sick.
COVID screening machine options can quickly become complex, leading to many questions. The goal is to protect people's health and safety, and the best tool for any individual organization depends on the building(s), industry and staff. While manual handheld options exist, they require a person to operate and read the scanner, and for both individuals to stand near one another.
Temperature Screening Kiosks

When a person walks up to a temperature screening kiosk, it measures their temperature and indicates whether they have a fever. An automated temperature scanner kiosk is a cost-effective means of measuring temperatures and requires no attendant to run.
Watch: Temperature Screening Kiosk Demo video
Temperature Screening Kiosk Features:
Small form factor; integrates with door access

Cost-effective and scalable

Can be installed in vestibule areas to control containment

Touch-free and contact-free

No attendant needed
View Purchasing Options Here
Thermal Walk-Through Temperature Scanners

A walk-through temperature scanner measures the temperatures of groups of people using an infrared camera. This type of solution is designed for large groups or masses of people to scan during high-volume entry times.
Walk-Through Temperature Scanner Features:
No stopping during entry to scan

Extremely accurate

Hundreds of scans can happen in minutes

Touch-free and contact-free

Fast, automated temperature screening

Video recording capable
Learn More About Temperature Screening Solutions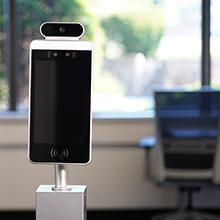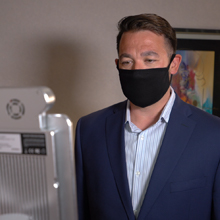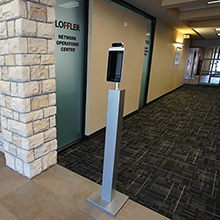 How much does a temperature kiosk cost?
Pricing starts at around $2150 for a kiosk without installation services. The average price of a temperature-taking kiosk is around $3000. Final pricing depends on your workplace setup, mounting and installation options, and additional software. We also offer lease and rental options on the units, along with configuration, enhanced alerting, and help desk services at an additional cost. Kiosks can be a cost-effective solution to help your organization get back to business. Temperature screening kiosks can also serve as effective safety solutions for schools, businesses, and many more organizations.

Temperature screening solutions offer many features that are not pre-configured on the device.
Loffler's solution includes setup, implementation and configuration of many options and integrations, including:
Email, on-screen and/or audible notifications

Door access integration

ID badge and ticket printing
Customizable SQL reporting

Elevated temperature alarm thresholds

Compensation for temperature variations

Body temperature settings

Mask detection

Taking and storing pictures (on or off)

Data storage planning and security

Stranger alarm (on or off)

Three different relay modes and delays

Password settings
Note: Human skin temperature is affected by a wide number of environmental and physiological factors. An elevated facial skin temperature may signify a raised body core temperature; correspondingly, an elevated core temperature may not be accompanied by a raised facial skin temperature. The temperature scanning systems Loffler provides are not guaranteed as accurate scientific systems and must be operated strictly in accordance with each manufacturer's Operating Manual. These temperature scanning systems are not intended, nor designed, to diagnose or detect medical conditions including, but not limited to, viruses or other illnesses. These thermal imaging products should only be used to detect variations of surface temperature. In the event that an elevated skin temperature is detected, the subject should be immediately checked with an approved medical thermometer and the finding confirmed. Absence of an elevated skin temperature does not exclude a fever.