Elevate UC
A business phone system designed to help you stay connected wherever you are – call, collaborate and connect while you're on the go.
Elevate UC is Your Work Phone Made Better
Elevate UC is a comprehensive communications solution that includes the Elevate Phone App and Elevate VoIP. The Elevate Phone App allows users to make and receive calls on their mobile devices using the Elevate VoIP service.
With Elevate UC, users have access to a range of features including voicemail, call forwarding, and call waiting, all accessible through the Elevate Phone App.
Elevate VoIP provides high-quality voice and video communications for businesses of all sizes. With Elevate UC, businesses can easily manage and scale their communication needs.
I Want to Learn More About Elevate UC
Elevate UC Provides 90+ Enterprise-Level Features Including:
Call Forwarding
Call Park
Call Transfer
Do Not Disturb
Call Recording
3-way Calling
Caller ID
Extension Dialing
HD Audio
Call Waiting
Receptionist Routing
Music on Hold

Voicemail Transcription
Elevate Unified Communications Productivity Features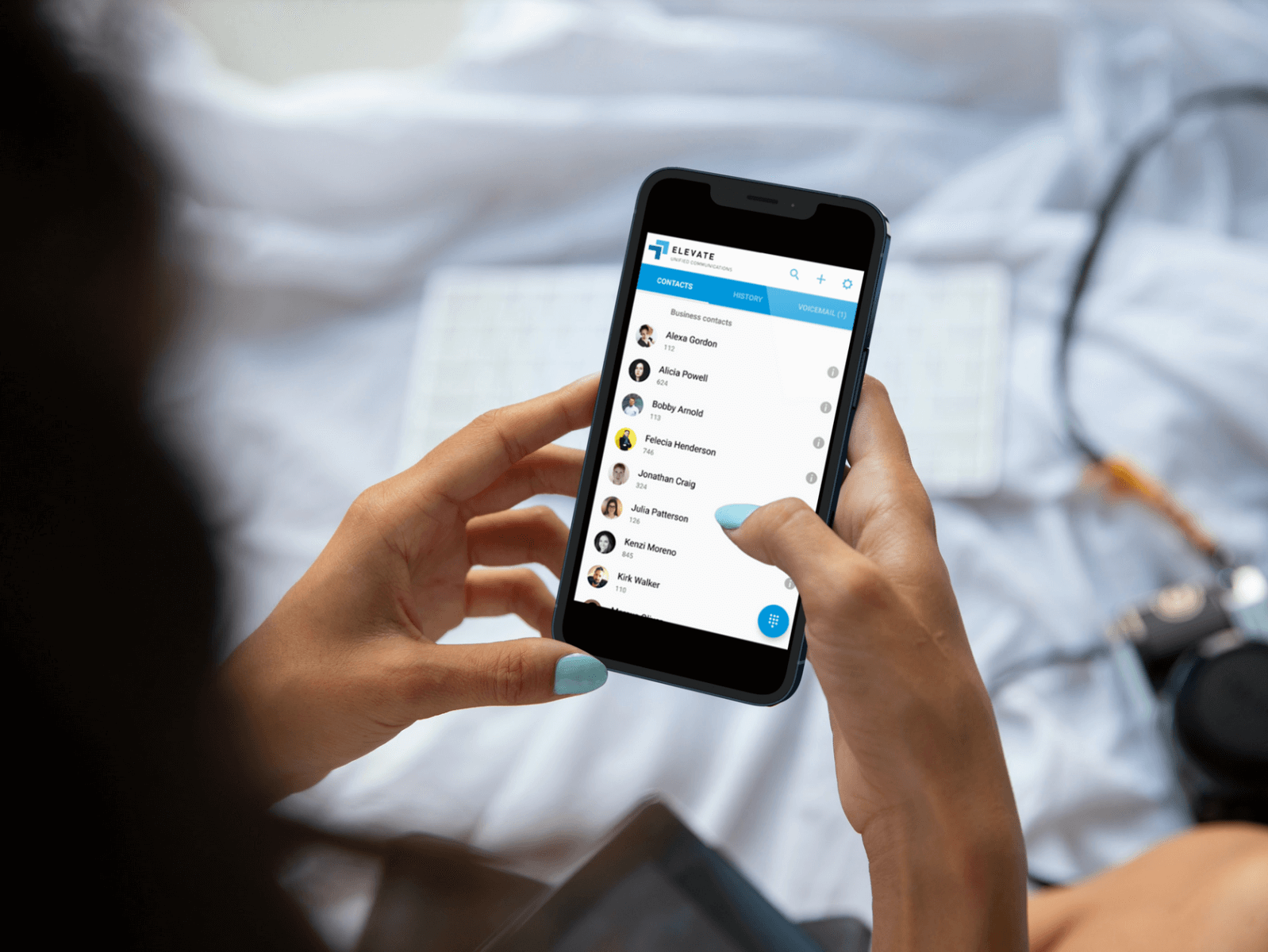 Elevate Phone App
This powerful mobile application transforms your phone into an essential collaboration tool, making teamwork on the go easier than ever.
Seamless call transfer from desktop to mobile
Extend your business phone number and extension to your mobile device
Full desktop history synchronized with your mobile device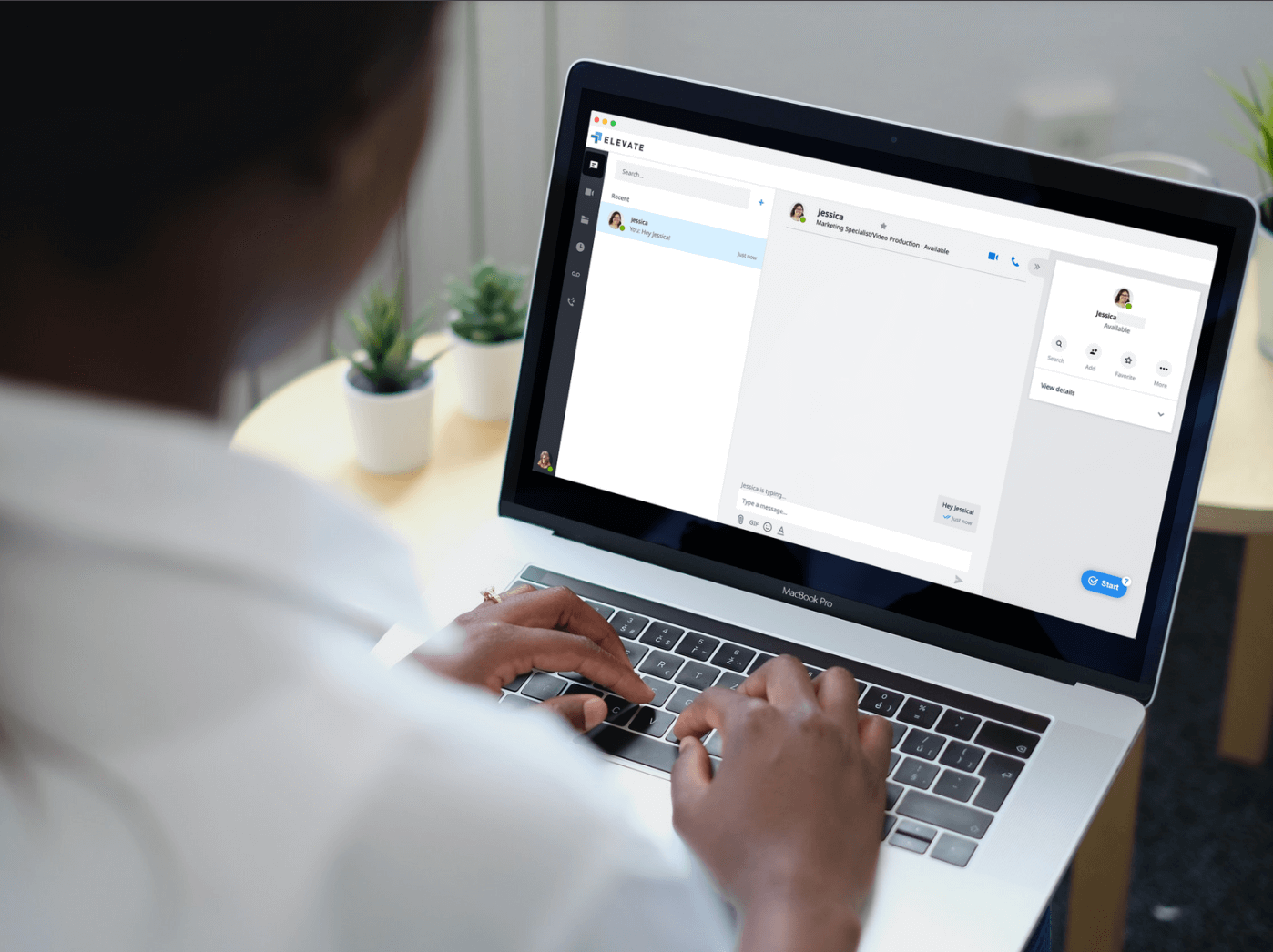 Elevate Desktop App
See who is available, chat, place and receive calls, share screens, start video calls and share files - all from one application.
Place and receive calls as a call controller or as a softphone

All the tools you need to collaborate all in one app

Everything you need is readily available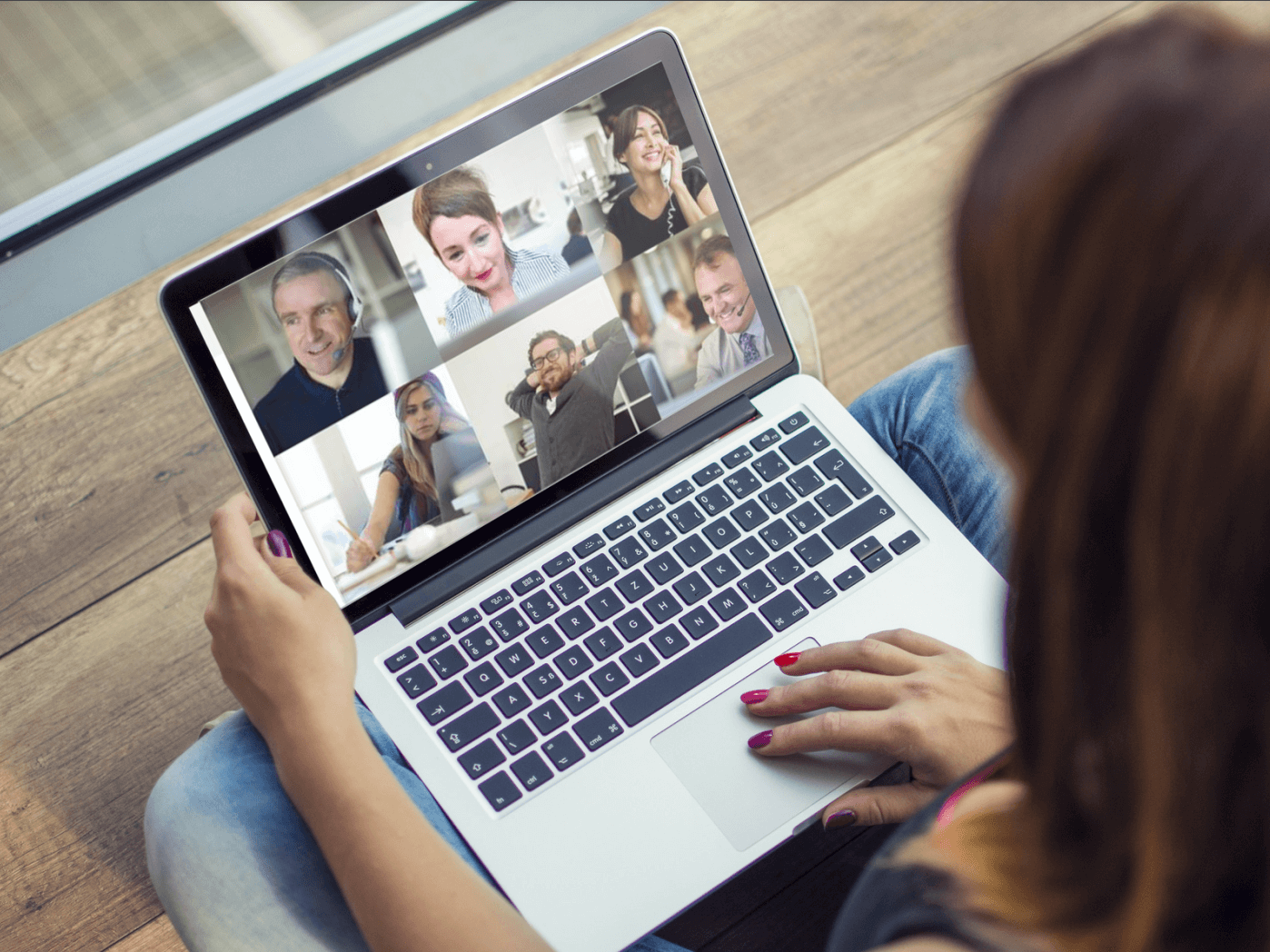 Video Conferencing
HD video conferencing eliminates unnecessary travel and empowers teams with remote members to be more productive.
Intuitive and easy-to-use
Screen sharing
Dial-in and custom URLs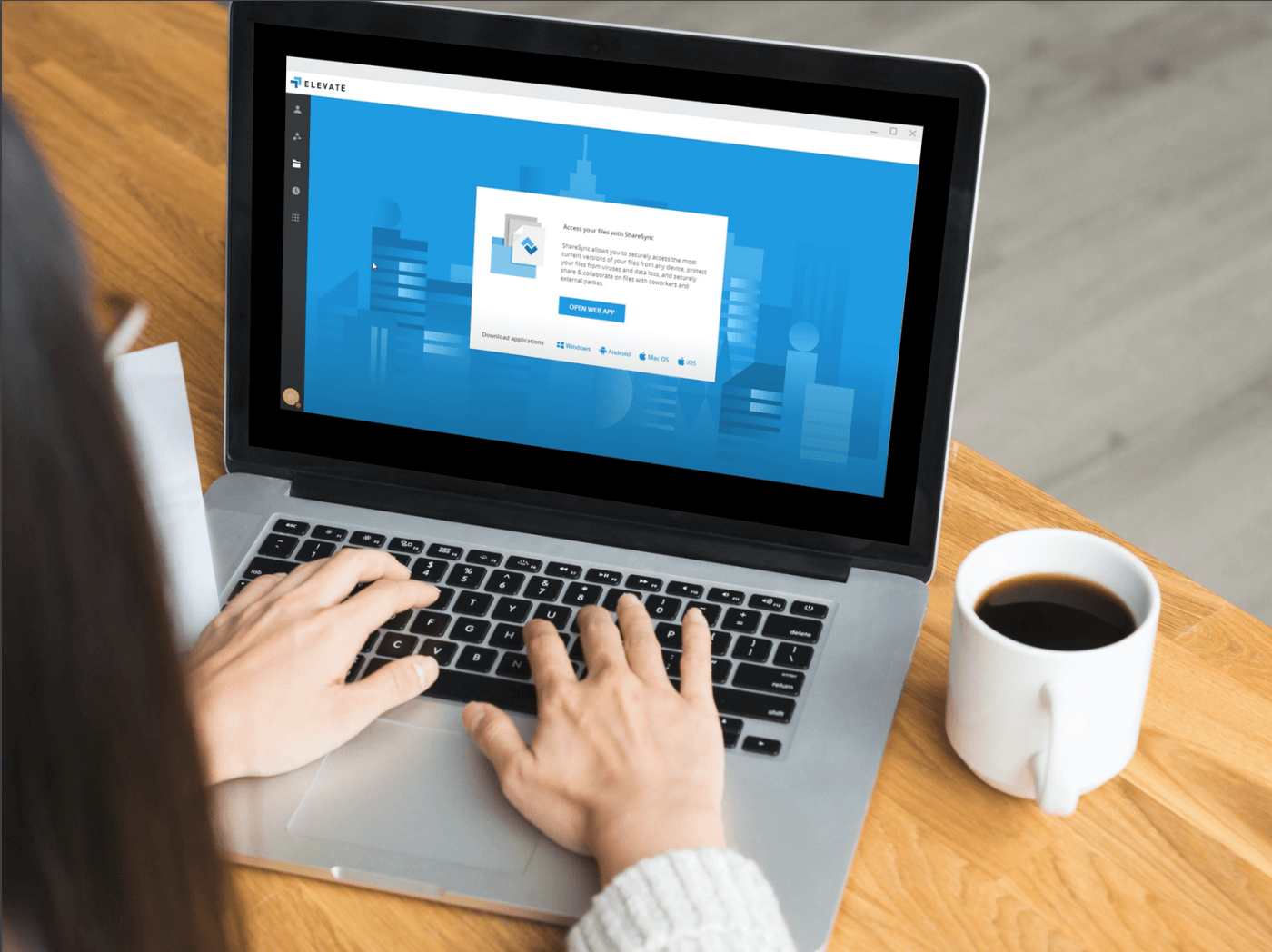 Secure File Sharing
Sync and share with backup for desktops, mobile devices, and file servers.
Most current version of files from any device

Easy and secure file sharing

Integrations with Windows file server, Outlook, Office 365 and more

Full control over files, users, devices and sharing activities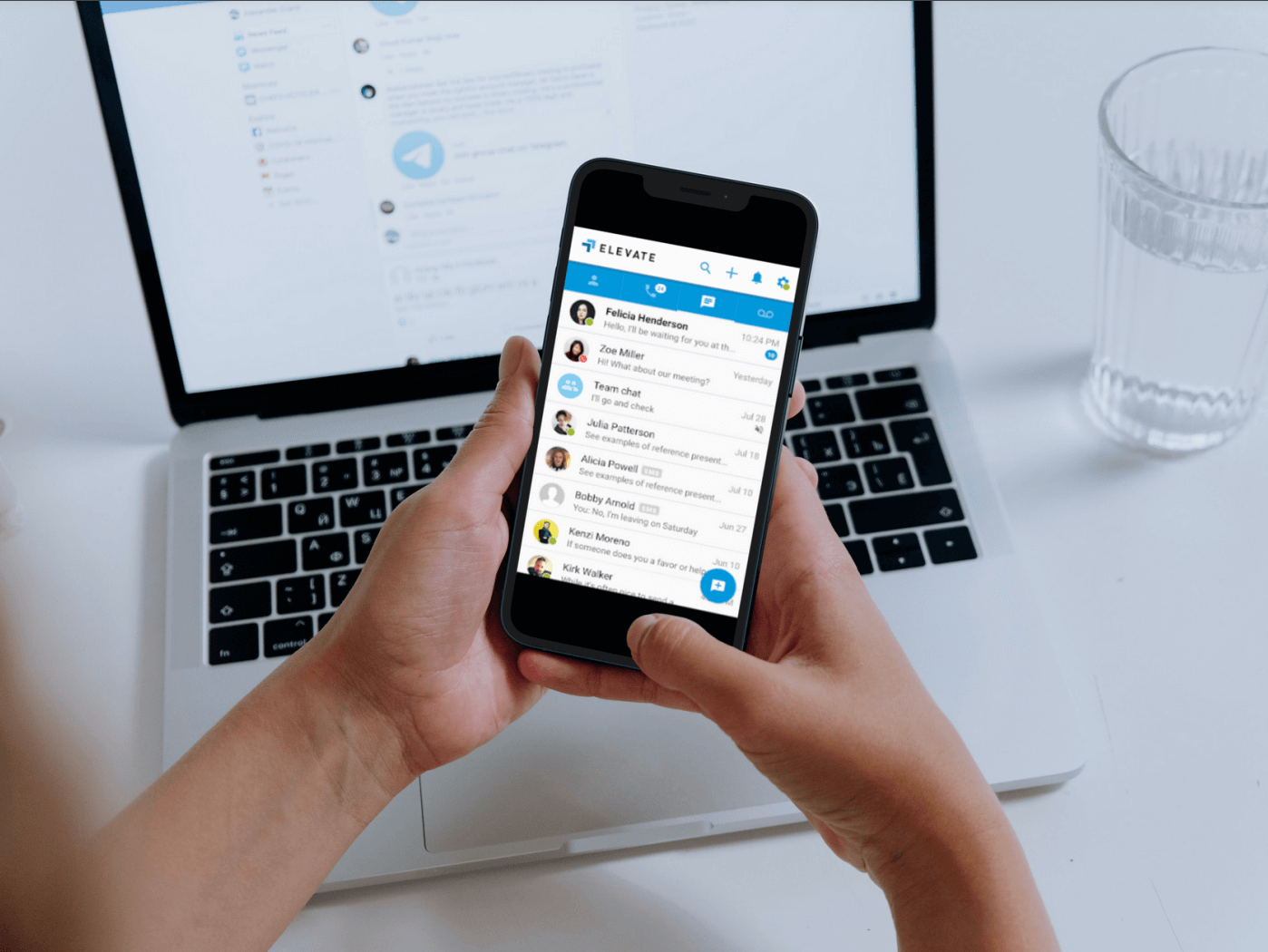 Team Chats & Business SMS
The SMS business texting feature allows users to send and receive SMS messages from the Desktop and Mobile application.
Keep your personal phone number private

Text with your business phone number from the Elevate mobile and desktop apps

Unlimited messaging included with the Elevate and Elevate Pro plans

Voicemail
Voicemail to email via an attached MP3 file
SMS notification
Voicemail transcription
Auto-deletion of voicemail after 90 days

C

hange personal greeting
Remote voicemail access

Conference Bridge
Unique Toll-Free number
Up to 50 simultaneous conferences
Start up to a 25 person reservation-less conference
Schedule up to a 100 person reserved conference
Separate host and guest codes allow full conference control
Conference calls can be recorded for downloading, reviewing and sharing

Busy Lamp Field
Indicates presence - whether another user's extension is currently in use
Other user's extension and name information are presented as virtual "buttons" on the desk phone's display
The BLF display can be used for speed dials, and also make or receive calls on behalf of another user

Video Conferencing
HD video conferencing eliminates unnecessary travel and empowers teams with remote members to be more productive
Share your computer desktop with team members in real-time, improving collaboration and speed of decision making
Includes a conference dial-in number and custom URLs for meetings

Call Flip
Allows the user to seamlessly move an active call from the desk phone, the desktop app or the mobile app to another device
Called party will hear hold music while the caller utilizing the Call Flip feature switches devices mid-call

Webfax
Users receive, view, manage faxes via the web, or as email attachments
Users may send faxes from any Internet-connected PC
Does not require an additional phone line

File Sharing
Easy and secure file sharing
Access the most current version of files from any device
Co-edit in real-time
Access file server content from mobile devices without a VPN

Team Chat & Messaging
Send and receive chat messages and file attachments in real-time with team members (individuals and groups)
Pin favorite contacts to the top of your list
Mobile chat and desktop chat messages are instantly synchronized
View free/busy/away statuses of all your contacts
Chat messages securely encrypted in transit and at rest