How We Calculated UC Costs
We have many clients already using UC business phone systems, either on-premise or in the cloud. Which architecture route you choose is dependent on the unique needs of your organization. We put the numbers in the following two examples together using averages from our real clients. These numbers are not prescriptive, but they do help give an idea of what to expect for UC costs.
We did our best to make these cost comparisons apples-to-apples, meaning we show the monthly costs for a cloud subscription (UCaaS) versus the totals for PRI, Analog Lines, Maintenance Contracts, Software Assurance and Video Conferencing that would be included in an on-premise system, all of which would either be unnecessary or covered in the cloud subscription.
The numbers we used don't directly highlight the differences between on-premise and UCaaS, because they do not consider all the extras. By that, we mean the extra costs that can come from maintaining an on-premise phone system: hardware replacement costs, upgrade costs, power, cooling, rack space, break/fix labor, efax or other fax services, server licensing and resources, redundancy and disaster recovery costs, and costs and complexity of adding additional services. The numbers also don't consider the additional features available with UCaaS (cloud solutions always have the scalability to offer robust features you can turn on or off without the heavy lifting of adding servers and rack space.)
With that said, let's move on to the cost comparisons:
Example #1:

On

e site with 40 users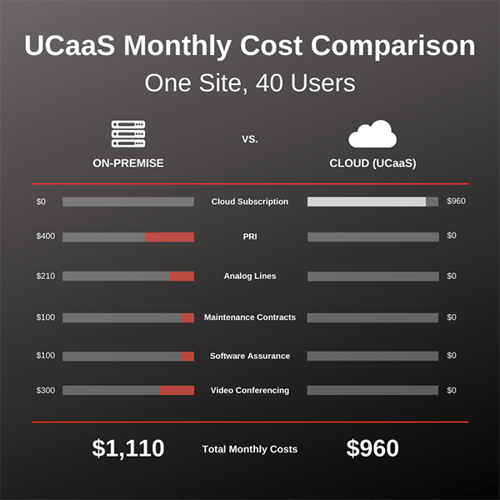 We have many 40-seat clients, so we had a lot of data points to pull these averages from.
For the on-premise phone system, we start with PRI (primary rate interface, the digital telecommunications connection) at $400 per month. Take into consideration that because we took an average for PRI, it may range from $350-$450 depending on the organization. Then we added a few analog lines, which range from $35 to $40 per line. Those could be for your fax lines or land lines for if you're PRI or SIP trunk (session initiation protocol, the virtual version of an analog phone line) goes away. Most of our clients have between three and six analog lines, so let's use $210 as the total for analog lines. Then we add in a maintenance contract ($100) and software assurance ($100) (software assurance being programs to ensure that software functions the way it was intended as updates are applied through its lifetime). And then to keep it fair, we'll include 20 Zoom accounts (or the video conferencing software of your choice) for $300 per month, enough for half the organization, because they may be needed for sales or service, but not everyone needs one. We come out at about $1,110 per month for that on-premise phone system.
With a monthly cloud subscription, the same client would be looking at about $960 per month. And that's the one monthly cost for the phone system; all other costs are gone. Even if I took out the Zoom accounts, so let's say the on-premise side was $100 less than the cloud, the cloud still gives you disaster recovery, the ability to work from anywhere, all your tools in one application and the instant messaging, SMS text messaging, and likely many features you don't have on the on-site side.
The task, then, is to determine whether those UCaaS features will benefit your organization. That's where Loffler consults with you to help understand your business and find the best fit.
Example #2:

Three sites

with 100 users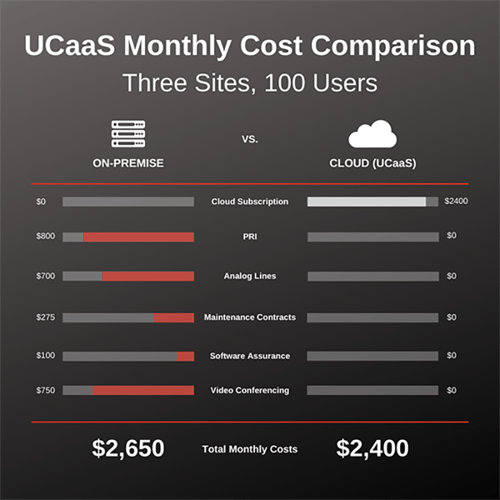 In this example, let's calculate PRI for the first two sites only at $400 each, for $800 total (let's say those are the larger sites). We will also have analog lines at all three sites, so $210 each at the first two sites, and let's add a few extra land lines at the third site for $280 (total of $700). The more locations that a company has, assuming they have more dial tone in each of those locations, the more the phone line costs add up. Especially if you're adding MPLS (multiprotocol label switching) to that conversation. We looked up some of our hundred-seat customers that we have here at Loffler, and we averaged out their maintenance contract ($275) and software assurance ($100) costs for all three sites. Again, we put about half the organization on Zoom, so let's say $300 each at the first two sites, and then $150 at the third location, since that one has fewer people. If you tally totals for the three sites, the total cost for this on-premise UC system would come out to $2,650.
On the cloud side, we used the same monthly cost per seat. No discount for the quantity. Even at 100 seats with three locations, the monthly total came out to $2,400.
---
Keep in mind that we're only comparing the monthly costs in these examples. There are many ongoing costs to consider on the on-premise side that can add to costs – upgrades, power, cooling, rack space, labor, etc. – that would not accompany UCaaS, because it's hosted in the cloud.
Whether your organization moves to a Unified Communications business phone system that is on-premise or in the cloud, we hope these cost comparisons give you an idea of what to expect. Contact Loffler to upgrade to a cloud-based or on-premise Unified Communications business phone system, or follow the links below to learn more about UC:
Learn More About Unified Communications
Watch the Webinar: Unified Communications & Collaboration