Updated February 2021
Original Post September 2018

More and more businesses are moving toward a paperless office, at least for common processes and procedures. While many people are working from home and spending less time in the office, it's imperative that businesses adapt to this new way of operating. Paper documents are extremely difficult to share both inter-office as well as with clients and customers, not to mention the countless business processes that are handled poorly.
They're manual when they don't need to be.

They occupy valuable time in your day.

They cost more than they should.
There's got to be a better way.
We've compiled a list of six current business problems that have been solved by implementing a document management system. Use it as inspiration to consider making the shift from paper to digital management within your organization. Can you relate to these issues in your business?
Problem 1: You Can't Find the Documents You Need When You Need Them
You're asked to find an invoice, contract or other document. You look for it in the filing cabinet where it's supposed to be, and it's not there. Now what?
There's really no reason this should occur when following current business best practices. Not when all of your paper documents can be made electronic. Electronic document management allows for document storage, document archiving and the ability to search for a document quickly and efficiently instead of digging through a file cabinet. This takes away headaches caused by not finding a document, trying to track down who had it last and locating where it was misplaced. This also creates standardization for electronic storage of documents to ensure users are tagging documents with a standard set of information. That way everyone knows what search criteria is required to locate a document.
Problem 2: File Cabinets Take Up Too Much Space
You're wanting to expand and add more desks for new employees, but valuable floor space is already claimed by file cabinets. Or you have a mountain of document-filled boxes in the warehouse that are just unnecessary. Why the clutter?
Human resources and accounting documents must follow document retention policies. When those documents are kept on paper, they end up in boxes or file cabinets, usually housed in the office or warehouse. A lot of people also leverage third-party storage companies to store their documents, which would add to the cost of storage and retrieval of documents. The on-site storage of paper documents is a poor use of space, money and a pain to maintain and organize. By transitioning from paper to digital with a document management software, those documents can be stored in the cloud, and you can use that physical space for other purposes. (Read about how to choose the right secure bulk document scanning service for the paper files you're already storing.)
Problem 3: Little to No Access Control to Files
Valuable financial data for your company has been compromised by an employee who looked in a file cabinet they shouldn't have. How do you explain that to your executive leadership team or shareholders?
Malicious intent or not, restricting access to your files is the ideal solution to this problem. Document management systems give you a standardized repository, so the right people can have access to the documents they need. With quick and easy permissions set up, you can tie to your active directory to give access to individuals, groups, departments or specific job functions. When someone is no longer with the company, you can shut down their access to all documents with just a few clicks. This makes document management systems much more secure than paper storage options.
Problem 4: Processing an Invoice is Inefficient
You receive an invoice in the mail and enter the data into your system. You then have to request approval before cutting a check. Because invoice processing is manual at your workplace, tracking down the right approvers takes time. When was the last time you reconsidered your accounts payable invoice approval process?
Accounts payable automation presents a huge opportunity for organizations to save time and money with document management and workflow automation. Whether an invoice is snail-mailed or emailed, it can be scanned, so you are working with a digital version (PDF). Plus, the business-critical data can be extracted from the document and made searchable, verifiable and able to be put into a document management system and pushed automatically to an approver. Here you'll see time savings, hassle savings and increased accuracy because people aren't manually keying invoice data into the computer.
Problem 5: Repetitive Tasks
A potential new hire submits a job application form to human resources. Upon being hired, they fill out more forms. All of which are manually entered into your HR systems, kept and filed away for the employee's records. This requires secure document storage on the part of HR, as well as manual tracking of data.
While document management systems and forms processing work well in accounts payable departments, they're also valuable for human resources. A job applicant can fill out one form, and upon hiring, that data can be applied to future paperwork within a document management system, saving overworked HR departments time and resources.
Problem 6: Over Time, Standards Go Out the Window
The employee who was initially trained on a new process was trained in thoroughly. Over time, however, that employee develops confidence and creates shortcuts to get the work done faster. At some point, when a replacement is trained, that new employee doesn't understand the context behind the original process – they only learned the short cuts.
Document management software with workflow automation will increase business efficiency. Many times, manual processes can become a game of telephone, to the point where they become different processes altogether, and checks and balances are missed. A good document management system can help you put in place technology to make sure everything is done correctly.
Interested in learning more about digital business practices and options for your organization?
Request a Free Document Management Consultation
Read Next: Which Document Management System Is Right for You?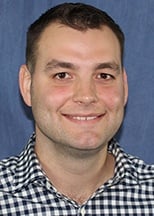 Jacob is an Intelligent Automation Specialist at Loffler. His passion is to drive digital transformation in customer environments to help organizations realize significant return on investment and improve their team's quality of work/morale. Jacob has been in the digital transformation space for nine years, and with Loffler for seven years. He is a father of four and enjoys coaching his kids' baseball and softball teams, as well as spending time outdoors with his family, especially at the lake.