Why an IT Consultant is Like a Golf Coach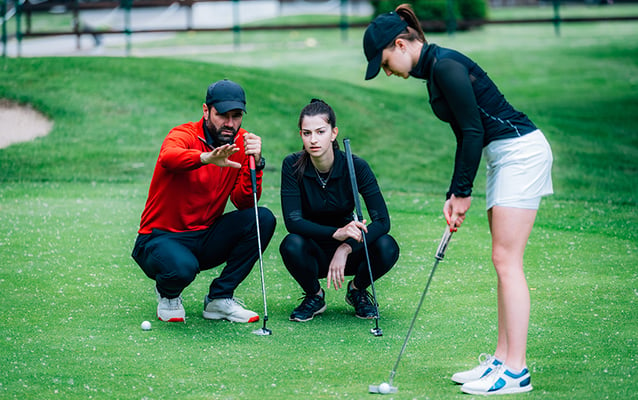 Golf is an incredibly humbling game.
Anyone who plays has experienced the high of sending one straight down the fairway and the intense low of shanking into the woods while your friends watch and laugh.
Unlike other sports, golfers can't rely on athleticism and strength. It's impossible to muscle your way to a low score.
To go low you need to understand the game, perfect your technique, and know the right tools to use for the situation. You need to get back to the basics.
You could drop $1000+ on a shiny new set of irons or you could invest your money in a golf coach. The latter will help you enjoy the game and benefit you in the long run.
So, what does golf have to do with information technology consulting?
Why an IT Consultant is Like a Golf Coach
Similar to how a golf coach helps you understand the fundamentals of the game, an IT consultant will help you master the fundamentals of your IT environment. Here are three ways that working with an IT consultant is like working with a golf coach.
1. Knowing what tools you need
Like most industries, the golf industry bombards golfers with the latest and greatest technology. Promises of more distance, more spin and better ball control are usually included in their marketing. But do you need the newest set of clubs to get the most out of your game?
The clubs you have in your bag should depend on how you play the game. Do you need the more forgiving cavity backs, a set of blades or a hybrid set of both?
That's where an experienced golf coach comes in. Just because Titleist came out with a new set of blades doesn't mean they are a good fit for you. A good coach will help you choose a set of clubs that fits your game.
Just as you need the right clubs when golfing, you need the right IT toolkit for your organization. An experienced IT consultant will make sure you have solutions in place that make sense for your industry, organization and current IT ecosystem. A custom set of clubs will help improve your golf game. A tailored IT environment will improve the performance of your organization.
2. Understanding strategy
A great golf coach is someone who's been around the game for years. They know the courses well. They understand course conditions and know the hazards. They can put you on the right line to give you the best lies and approach. They know which clubs to use under certain circumstances and can adjust their instruction based on the player's capabilities.
A golf coach knows what techniques work and don't work. They're familiar with common mistakes players make and know the routes to take to avoid them.
The same can be said about great IT consultants. They've been in the industry for years with real-world experience. As a result, they can advise clients on everything IT. An experienced IT consultant is familiar with IT strategy, planning and budgeting. They've been through the process many times and can effectively enable their clients to achieve their IT goals.
3. Figuring out where to start
Learning how to properly play golf can be a frustrating and overwhelming process because of the many aspects of the game you need to practice to become a better player. Driving, long irons, short game and putting are all a part of the game, and each is equally as important.
Figuring out how to do all of this on your own can feel like running in quicksand. Sure, you can look at tutorial videos online or buy products that guarantee fixing your slice. But nothing can beat the immediate feedback you get from a coach watching you swing. To improve your game quickly you need to work with a golf coach. They can help you identify what's going wrong and what's working in your game. They'll help you develop a roadmap so you can use your practice time effectively.
An IT consultant also gives you a roadmap to follow so you can take care of the critical aspects of your IT ecosystem first. You won't have to guess if you should start with cybersecurity, cloud migrations or whatever it might be. A consultant will assess your current IT state and work with you to create a plan. You'll gain objectives with KPIs to measure your progress, much like how a golf coach would measure your progress by tracking your scores every week.
---
The next time you're thinking about buying the latest club, consider how much that will really help your game improve if you don't have the fundamentals down. The new club may make you look cool, but without a coach's insights, the chances you'll still stink are high.
The same mentality can be used when you're considering your IT environment. You could spend your IT budget on the latest and greatest solution some vendor is trying to sell you. Or you can work with an experienced IT consultant who will help guide you in the direction you want to take your organization.
Read Next: Why an IT Consultant is Like a Personal Trainer for Your Business

Chad is an IT Strategy Consultant at Loffler Companies. He has worked in the IT industry for over 25 years, spending 15 of those years in IT consulting. He owned his own IT services company specializing in managed services, small business projects, professional services, IT strategy and planning before coming to Loffler in 2012. Chad has worked with many companies to develop their IT lifecycle and specializes in strategic planning and tactical implementation. In his free time, Chad enjoys traveling with his wife and two sons, playing tennis and reading nonfiction and history books.