Is Hyperconverged a Good Fit for Your Organization?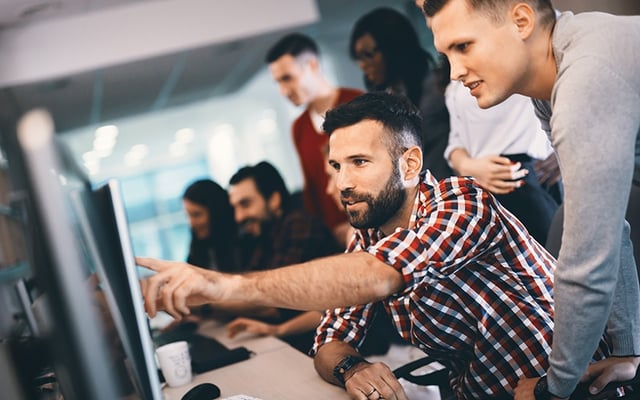 You probably have a wish list for your job that includes words like "simplify" and "consolidate." One way I've seen many workplaces make day-to-day tasks easier to manage is with a Hyperconverged IT infrastructure (HCI). HCI is a newer concept and it's different from traditional IT. If you're not already considering Hyperconverged, you may be soon. Gartner estimates that 20% of business-critical applications will be on HCI by 2020.
Hyperconverged is just one of several options to consider for your IT environment, and what may be best for you may be vastly different from the office next door. That's why I, with help from Nick Johnson, an IT Services Engineer V at Loffler, have assembled a list of signs that HCI may be a good fit for you.
In a traditional IT infrastructure, often called three-tiered or siloed, the components within your IT design are kept separate, which can create hurdles when it's time to upgrade or grow your solution; the components are not necessarily designed to work together.

A Hyperconverged infrastructure combines compute, virtualization, storage, networking and security all in one solution. The consolidation of everything simplifies implementation, ongoing maintenance and future growth initiatives. HCI offers an integrated, easy way to manage infrastructure from install to daily administration. More info on the basics of Hyperconverged is available here.
A Hyperconverged infrastructure may be a good fit for your workplace if:
Your IT Infrastructure Is Aging
For an organization with aging infrastructure, long-term maintenance can be expensive. If you look at the difference between maintaining your current infrastructure versus cutting over to HCI, you may find your interest piqued. Modernizing your infrastructure may cost about the same as maintaining your old system.
The end benefit is that you're spending near the same amount of money, but on a modern solution rather that maintaining status quo. When designing a recent quote for a customer, we found that 30% of their planned IT budget was going to be spent maintaining their current infrastructure. If they chose to go with Hyperconverged, they'd still be spending that same 30%, but it would be on newer technology and higher performance rather than maintaining an antiquated solution.
Let's say you have an old SAN (storage area network) that is out of space, and you know you have to replace it sooner rather than later. Perhaps your server needs attention as well? You might consider compressing all of your infrastructure into a Hyperconverged system instead of buying a new SAN today, eventually a new server and in the future more licenses for virtualization. Making a step into HCI would essentially reduce your applications into one solution that you would procure as an up-front investment.
You Need an Isolated Environment for Development and Testing
Stress-testing your IT infrastructure can kill your production environment. With HCI, you can quickly spin up a new server, write applications to it and do a lot of testing without affecting production equipment. This means you don't need a whole stockpile of non-production equipment to run tests.
Splitting development and testing from production can be useful for an isolated project, isolated environment or virtual desktops.
One example of a good candidate I've worked with recently is a company that writes their own software program, which they will one day sell to other companies in their industry. I knew Hyperconverged would be a good solution for them because they do a lot of programming in-house.
You Plan to Grow
An organization that needs room to grow needs a scalable solution that can grow with them. Consider these three types of IT setups: Traditional, Cloud and Hyperconverged. Traditional IT infrastructures are not optimized for growth because they can run out of space or capacity. Cloud can be beneficial for a system that needs to accommodate rapid, short bursts of growth periodically, but it can be hard to estimate costs for unpredictable workloads. If you don't have a lot of knowledge about how hard your system is going to get hit or how busy it is, Cloud can be costly. Hyperconverged supports a steadier growth model, with allowance for some predictable, higher spurts of usage (for example, seasonally). HCI gives you a Cloud-style consumption model, with more of a traditional on-premise solution, meaning you can scale as you go incrementally.
With Hyperconverged, the solution may grow over time, so an organization may choose to start out small. This could mean doing something with testing and development, for example, to get your feet wet. From my experience, most Hyperconverged customers like the system so much, they add to it within the first 12 months.
Your Business Is Large or Small, With or Without an IT Team
I'm trying not to paint with too broad of a brush, but this one needs to be pretty broad, because Hyperconverged IT is a good option to consider for many organizations.
The size of your business is not a determining factor for whether HCI will work for you. Any organization with an infrastructure stack that includes virtualization, storage, networking and security is a candidate for Hyperconverged because it brings all of those different technologies down into one software application. Having or working towards a mostly virtualized server environment is a benefit if you're looking at Hyperconverged. You may only have 10 servers and be a good candidate. You may have 350 servers and be a good candidate!
It also doesn't matter if you have an in-house IT staff or not. The simplicity of Hyperconverged allows it to be handled by whoever is monitoring your IT (even if they're wearing several hats.)
You Have (or Want to Have) a Strategic Vision for IT
HCI is ideal for companies that know where they want to go with IT. This technology will empower your IT staff to make changes to your system easily and to meet growth needs to follow ambitious visions.
Many CTOs (Chief Technology Officers) and IT directors light up when we discuss Hyperconverged infrastructures, because they're the ones who have an IT vision or strategy. Hyperconverged is just one way to design your IT infrastructure. We focus on a consultative model, working with our customers, so when someone needs our help with their infrastructure, we consider all options, including HCI, to determine the best fit for each individual organization.
Read Next: 5 Questions to Determine Your Data Storage Needs

Jessica is an account executive for the IT Solutions Group at Loffler. She has been with Loffler since 2010 and works closely with clients to understand their business needs and objectives, with the goal of helping them identify the best IT and phone solutions to improve their workplace.