COVID-19 Temperature Screening Kiosks and Walk-Through Temperature Scanners

All organizations need to ensure health and safety if and when they begin to reopen in the COVID-19 pandemic. They need effective and highly-visible solutions. Many are turning to temperature checks as an essential way to identify who may be sick.
Temperature screening options, including forehead scanners and automated thermal temperature scanning, can quickly become complex, leading to numerous questions about what's the best fit. The goal is to protect people's health and safety, and the best tool for any individual organization depends on the building(s), industry and staff.
What will fit the needs of your organization? Here are three solutions to consider:
Handheld

Forehead Temperature Scanner
With a handheld forehead temperature scanner, an individual holds a scanner up to another individual's forehead to scan their temperature. This is a touch-free process, but requires a person to operate and read the scanner, and for both individuals to stand near one another.
This is generally a low-cost investment but could take one full-time employee per day (per device) to run, depending on how many people an organization needs to scan.
Temperature Screening Kiosk
A temperature screening kiosk is touch-free, contact-free and does not require a person to operate it. It is ideal for office buildings where the volume of foot traffic would not be impeded by the scanning process; this process can take up to 10 seconds per person, and one kiosk can handle one person at a time.
A temperature screening kiosk is often placed at the entry point of a building or work area. When an employee or visitor approaches the kiosk, the device's camera recognizes them as human and measures their forehead temperature before indicating whether they have a fever. The kiosk can be mounted on a tabletop, podium or wall.
The kiosk can be used to check-in employees and can integrate with door lock systems, to grant entry into a room or building. It can also be configured to signal an alarm if someone has an elevated temperature.
Watch: View Our Temperature Screening Kiosk Demo Video.
Walk-Through Temperature Scanner
A walk-through temperature scanner requires people to walk through a designated space, where their temperature is measured on a monitor. An infrared camera uses a mounted device called a black body — which maintains a perfect 98.6°F temperature — as a reference point to determine the temperatures of people who walk through the designated area. People above a healthy temperature will generate a red signal.
This style of temperature scanner is ideal for organizations needing to scan temperatures of many people at once, such as in a meat processing plant, an airport, movie theater, educational facility or shopping mall. Other methods that require people line up to check individual temperatures can become cumbersome, especially if hourly checks are mandated. The walk-through temperature scanner method is also a touch-free, contact-free option.
---
Loffler is the upper Midwest's premier business technology, service and solutions provider and is now able to provide temperature screening solutions. As a value-added reseller, we can custom design a solution to fit the needs of your organization.
Learn More About Temperature Screening Solutions
Read Next: So, You Bought a Temperature Screening Kiosk. Now What?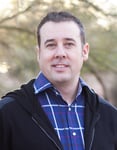 Anthony Rocheford is a Physical Security and Audio Visual practice manager at Loffler. Anthony began his technology career in 1993 installing POS and Audio / Video equipment in retail and commercial environments. With more than 25 years of technology background, Anthony has built and managed several enterprise-level surveillance systems consisting of more than 56,000 cameras in 830 locations in the United States and Canada. He was instrumental in the design and implementation of major surveillance systems for Life Time Fitness – supporting 9000+ cameras running Milestone Systems and JCPenney – supporting 42,000+ cameras running ExacqVision. In addition, he brings a strong background in operational leadership and knowledge in multi-site real estate management and construction. Anthony has had certifications with AXIS, Milestone, Genetec, ASIS, BICSI, NICET, Microsoft and Cisco along with various Access Control, Audio Visual and Project Management certifications. In his free time, he enjoys the outdoors with his son and daughter.