As a copier and printer repair service partner, we were excited when we heard we had achieved a truly world-class customer service benchmark. All copier and printer companies say they have good service, but only an elite few can back up the claim of the best service with real data.
The independent third-party aggregator of print and copy repair statistics, BEI, ranked Loffler first nationally in first-call effectiveness last month, compared with 201 other US dealers.
Why does this matter for you? It means when you work with Loffler, you're working with a company measured as the best copier and printer repair service in the country.
Consistently the Best Copier and Printer Repair Service Partner
Loffler consistently ranks at the top in the country in first-call effectiveness. Our current first-call effectiveness rating is 68%.
To put this into perspective, the 201 other dealers we're ranked against currently have a first-call effectiveness rating of between a low of -6% to a high of 68%. The largest dealer that reports to BEI has a rating of 38%. The average of all dealers is 43.8%. In the last 12 months, Loffler has attained a 72% first-call effectiveness ranking three separate times.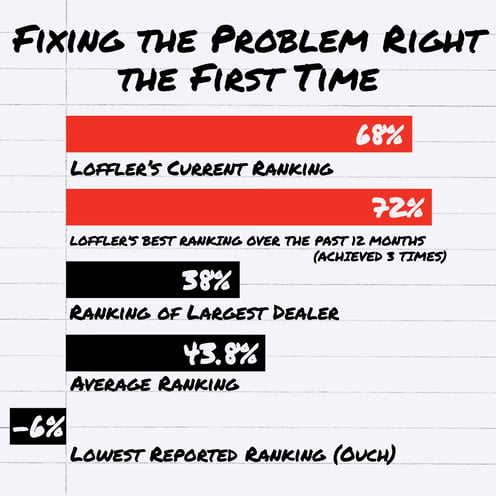 When we look at the exceptional Net Promoter Score of Loffler's entire service organization, including for IT services, we can speak with confidence that the service we provide to our customers is the best rated in the United States, with the proof to back it up.
What Does First-Call Effectiveness Measure?
First-call effectiveness measures the results of a service call: Whether equipment gets fixed correctly the first time. It looks at how much time passes between when a broken machine is fixed and the next time it requires service. First-call effectiveness should not be confused with the first-call fix rate, which we hope to discuss more in future posts.
Note that not all service calls are for break/fix issues. Some answer requests for training or new print drivers, which are issues that don't qualify as broken. First-call effectiveness measures only break/fix calls. That means if a problem does arise, we are best at fixing it the right way the first time.
A Note About Copier and Printer Repair Service Data
We value valid data. Our energy, when tracking data, is focused on making sure we're a productive organization, so we can improve customer experience.
Our team measures over 120 benchmark data points weekly to ensure an outstanding customer experience. We measure the average pending daily calls, response times, number of calls on a parts hold, hold time, etc. Tracking helps us answer questions like: How many calls do we have to hit first thing in the morning? This helps us adjust to call technicians in early. We act on those numbers.
They have helped us realize the need for an Imaging Help Desk: A staff of remote help for our customers when they can't scan, can't print. It turns out the Imaging Help Desk solves 11-12% of all service calls that we receive, and a technician doesn't even need to go on site. This brings quality, high-level service to our customers.
The Best Copier and Printer Repair Takes a Village
As the leader of Loffler's copier and printer service organization, I track our service performance data constantly. I noticed Loffler was always at the top of the list in first-call effectiveness. There's a reason why we've been awarded the Diamond-Level Service Award, which names us as one of the best dealers in the country.
Providing outstanding copier and printer repair takes a village of professional staff and leadership, professional training, purchasing, parts inventory and logistics, transportation, client services, administration and much more.
You have options when choosing repair service for your copiers and printers. Loffler provides advice on how to select the best partner for copier and printer repair services, including having tenured service technicians who have seen it all.
Learn About Copier and Printer Service at Loffler
Read Next: 10 Copier and Printer Repair Service Do's and Don'ts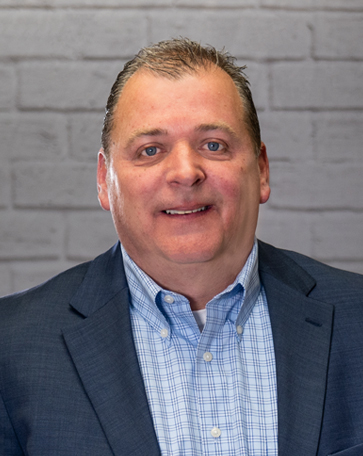 As Loffler's Vice President of Operations for Imaging-Copier Service, Joel controls and refines processes to ensure an outstanding customer experience. He is passionate about setting Loffler's service performance benchmarks too high for the competition to reach. Joel has been with Loffler for 22+ years and got his start in the industry roughly 30 years ago, working in the parts department. He is married with three kids and two dogs. In his free time, Joel enjoys golfing, fishing, coaching baseball and chasing around his youngest son.