A major concern I'm hearing from CEOs is how to make sure an organization's cybersecurity protection is keeping up and strong. As cyber incidents increase at an alarming rate, it puts business leaders in a challenging spot.
Keeping an organization secure starts at the top.
The right security tools need to be in place to enable your team to spot cyber threats. To accomplish that, proper cybersecurity education and training is essential.
Here are some tools and policies you can put into action at your organization to start securing your network.
End-User Training
Even if you have all the security tools in place all it takes to compromise your network is someone clicking on something they shouldn't be clicking on.
Educating and training your end-users to spot phishing attempts is a key component to keeping your network secure.
To mitigate this risk there are a few things you can do that we practice here at Loffler:
Keep Cybersecurity Top of Mind
Every Friday we send out a company-wide newsletter to keep everyone in our organization up-to-date about what's going on at Loffler. In the newsletter, we consistently remind our team members that, yes, we do have state-of-the-art tooling in place, but all it takes is one click on a malicious link to let bad actors into our network.
We also ask our team managers to emphasize the importance of being cyber-aware in their team meetings. It's about constantly reminding employees to be very conscientious about what they're clicking on.
Building a cyber-aware culture and educating end-users to be a part of the solution are some of the most effective and accessible components to keeping a business secure.
Continuously Test & Educate
At Loffler, we also deploy services that specialize in end-user education and training.
Our employees are sent fake phishing emails to test their cybersecurity knowledge. Clicks are monitored and tracked so if someone fails to spot the phishing attempt they're sent educational resources and training to help them better identify threats. We've seen good results from this service.
Start with a Cybersecurity Assessment
To reach your security goals you need to know where you're at now.
A cybersecurity assessment will give you a comprehensive view of your current cybersecurity posture.
From there you can build an IT security roadmap and identify the tools and policies you can implement right away to make sure your organization is secure.
Enable Multi-Factor Authentication (MFA)
If you haven't already, MFA is a great security tool to deploy across your network.
Eliminating the threat of lost or stolen credentials will mitigate the risk of attackers accessing your network through a compromised account. This is a smart additional step to take along with a strong password policy for your organization.
MFA requires users to present two forms of credentials to gain access to your organization's network. The credentials must come from two of these three criteria:
Something you know (A password)
Something you have (An app like Microsoft Authenticator)
Something you are (Biometrics)
MFA is an accessible tool that greatly increases your network security and doesn't burden your end-users when implemented correctly.
Have a Cyber-Incident Plan in Place
In a perfect world, you wouldn't have to worry about a cyber incident happening at your organization.
But in reality, no organization is completely safe from a cyber-attack.
If your network is compromised, or you suspect an incident has occurred you need to know who to call and what steps to take to minimize damage.
Again, even if you have all the right security tools in place, shi...things happen. We've had a Friday afternoon call from a CEO where someone clicked something they shouldn't have and now their company is in a tough spot.
When it comes to cybersecurity, being proactive is equally as important as being reactive.
Having an incident response plan in your playbook that has all the necessary steps you need to take if you experience the chaos of a compromised network is another essential protective step to take.
Choose the Right IT Partner
Working with an IT partner will help you ensure your network has the right security tools in place and make your whole environment perform more efficiently across every department.
The key is choosing the right IT partner for your organization. Keep these questions in mind when you're evaluating or deciding on which company you want to work with:
Do they take the time to understand your business?
Will they help you establish the business goals you want to achieve and the KPIs needed to reach those goals?
Can they provide you with real-time information for your KPIs so you can gain instant feedback on the health of your network?
Leadership and IT need to be part of the conversation when you're choosing an IT partner. Think about the short-term and long-term goals you want to achieve and then choose the company that best fits you.
Keeping your organization secure starts with leading by example. Enabling your team with proper tools and education is the foundation of a strong security framework.
At Loffler, we believe network security should start with a conversation. Determining your goals and implementing a solution to help you reach those goals is the best approach.
Our engineers love helping our clients succeed by creating IT environments that are uniquely tailored to their business.
Watch Next: Loffler Talks Video Series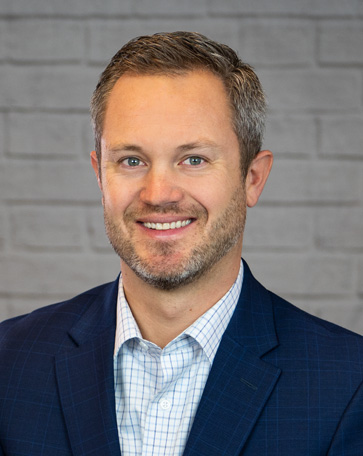 James Loffler is the President of Loffler Companies. He began his career in sales working for a Fortune 500 technology company and held several positions at Loffler before working his way up to President. Under James' leadership, Loffler's IT business grew more than 95% and has been recognized multiple times as one of Americas top managed service providers (CRN Magazine). He plays a crucial role in developing business strategy and vision as well as ensuring the success of Loffler Companies customers, employees, technology partners and the communities we serve. He enjoys biking, boating, flying and traveling with his wife and three sons.