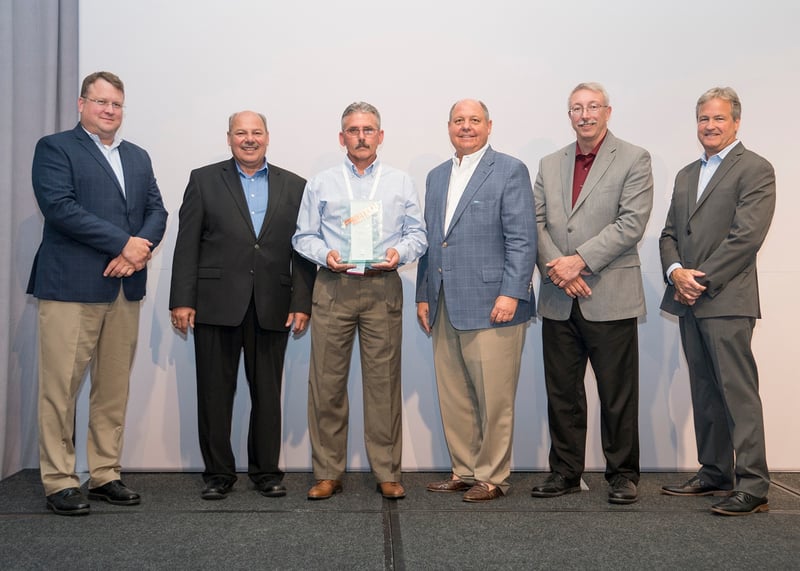 Brian Patterson (Imaging Services Manager), third from left, receives Loffler's tenth consecutive Pro-Tech Service award.
Loffler's professional, highly skilled people, backed up by award-winning service and support exceed the expectations of clients in meeting their business' technology needs.
Konica Minolta Business Solutions U.S.A., Inc. announced that Loffler Companies has been honored again with a Pro-Tech Service Award at the company's annual dealer conference in Carlsbad, CA. Loffler also received special recognition for winning the award for the tenth time. Loffler's Eau Claire, WI location was also awarded the Pro-Tech honor this year.
"I congratulate Loffler Companies for their outstanding achievement," said Sam Errigo, Executive Vice President, Sales and Business Development, Konica Minolta. "This is an extraordinary distinction that recognizes the dealers that deliver the finest customer service day in and day out."
Loffler is dedicated to delivering professional, reliable service and maximum performance for Konica Minolta's award-winning lines of digital imaging products. To merit the Pro-Tech standard, each element of Loffler's operation was evaluated, including management skills, inventory control systems, technical expertise, dispatch systems and customer satisfaction ratings.
"We are continuously striving to maintain top business practices in the marketplace," said Jim Loffler. "Our long-standing partnership with Konica Minolta allows us to offer an array of top options partnered with the best service and support in the industry. Being Pro-Tech certified assures our clients they can expect and rely on our knowledgeable people, valuable skills and quality systems to meet their production needs.
Konica Minolta's rigorous Pro-Tech program is designed to help ensure that all authorized dealers provide the best customer and product support for Konica Minolta devices. Such standards require that dealers maintain proper technical and product training for service technicians, that they utilize the latest Konica Minolta service programs, and that they adhere to Konica Minolta policies and procedures. Additionally, Pro-Tech dealers must allow random inspections of Konica Minolta products at customer locations as verification that products are well maintained and that their customers are satisfied with service and product support.
"The PRO-TECH award is an acknowledgement of Loffler's commitment to providing superior service," said Joel Nelson, Loffler Vice President of Operations. "It's what we've built our business on and always our number one priority for our clients."
In addition to being Konica Minolta Pro-Tech certified, Loffler is an authorized Konica Minolta training center. Loffler is proud to provide clients with nationally recognized service and support, including being rated number one in the country for first-call effectiveness.
Loffler Companies, excelling under Jim Loffler's leadership since 1986, continues to be the leading business technology and services provider in Minnesota and Western Wisconsin. Recognized as the number one Minnesota Canon copier dealer, the top Konica Minolta dealer covering Minnesota and Western Wisconsin, as well as an HP Elite Partner dealer, Loffler's almost 500 employees work hard every day to exceed the expectations of clients, partners and the community.