The Current State of Ransomware
Is your organization prepared to handle a ransomware attack?
Ransomware continues to be the weapon of choice for cybercriminals and is a growing problem for organizations of any size across all industries. Any organization that does business online is at risk.
Becoming cyber-aware and taking a proactive approach to cybersecurity is the best strategy to prevent, detect and recover from ransomware. This guide is your introduction to understanding the types of ransomware, how to keep your data safe and proactive steps to mitigate risk.
Get to know the current state of ransomware: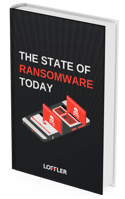 The Impact of Ransomware

10 Key Statistics

Types of Ransomware

Should You Pay the Ransom?

Proactive Steps to Protect Your Organization
Download the guide using the form on this page for actionable steps you can implement today to be better prepared for a cyber-attack.