Managed IT Services Pricing
What Should You Expect to Pay for Managed IT Services?
We're happy to discuss Managed Service Provider (MSP) pricing, but providing an exact cost estimate can be difficult. First, we need to understand your needs, goals, the makeup of your current IT team (if any), and the current status of your IT infrastructure. There are several factors that can increase or decrease the cost of IT solutions, which we'll cover on this page. If at any time you'd like to begin a discussion specific to your organization, contact us to schedule a consultation.
We understand why any prospective managed IT client would be curious to know our pricing models. Are we way out of your price range, or will this be something we can make work?
On this page, we'll outline the factors that impact costs, and provide example price ranges from our actual managed services clients. Have a specific question? Skip down to our FAQ.
Below you can see examples of our pricing.
Managed IT Services Plan Pricing Examples:
| | | | |
| --- | --- | --- | --- |
| Office Locations | Devices | Monthly Costs | Total Yearly Cost |
| 1 Location | 9 Devices: 1 Server, 7 Desktops & Laptops | $125 per Device + $449 Business Continuity Services | $18,888 |
| 4 Locations | 136 Devices: 7 Servers, 125 Desktops & Laptops | $50 per Device + $708 Business Continuity Services | $90,096 |
Ready to Get Started? Let's Talk:
What Is Managed IT Services?
Managed IT Services is a cost-effective way to manage part or all of your IT environment.
Fully managed IT can step in and act as your IT department. Your provider handles everything from business and technology planning to end-user support and system/software upgrades.
Alternatively, co-managed IT can work alongside your IT department. You may elect to have your managed IT partner handle all of the complex IT initiatives while your in-house team handles day-to-day tasks (daily maintenance, backup, administration and IT security). Or, your in-house team may want to tackle the higher-level process and have your managed IT partner take on the day-to-day workload for your organization.
What's Included?
Managed IT Services plans include fully-managed and co-managed models, where a managed service provider can take on all of an organization's IT needs, or work alongside an existing IT team. We dive into the differences here. Plans can include the following features:
Proactive IT Security

Help Desk Support

Monitoring, Alerting & Reporting

Backup, Recovery, Business Continuity & Disaster Recovery

Hosting Solutions

Collaboration & Access
Because the managed services engagement can take on many different formats, knowing how much to budget for these services can be difficult to define without knowing the full context of your organization's needs. Several factors can affect pricing.
How Pricing for Managed IT Solutions Is Determined
While obtaining new hardware and software or scheduling a one-time project or incident response will often be items you need all-at-once (with some exceptions, payment plans are realistic possibilities), managed IT services work in a subscription model where an ongoing relationship will be handled with monthly payments.
We encourage all prospective clients to have a conversation with a Loffler team member before we can offer a specific quote for you because we need to understand your environment in order to be accurate.
Factors That Impact IT Services Cost
Number of employees and/or users. The number of users will directly impact an organization's managed IT costs.

Number of devices (servers and/or firewalls, for example), number of computers, number of mobile devices. On that subject, are employees allowed to bring their own devices in a BYOD policy?

Number of locations. Are you planning to grow within the next year? 5 years?

Remote employees. Whether part-time or full-time, remote employees need secure access to services.

Length and type of service-level agreement (SLA). An organization's managed IT price can depend on the terms you and your service provider agree upon. Loffler offers incentives for signing longer contracts.

Point of contact. Does your organization have someone in charge of IT, that can serve as a point of contact? Loffler offers fully-managed IT programs and co-managed IT, where we work alongside an existing IT team.

Type of backup. Cloud backups and disaster recovery /

regular backup of data & critical systems can affect pricing.

State of current infrastructure. We need to know what kind of systems you're running on, and how adaptable they are to the managed services support we are able to offer. If an organization is running on old servers that are overdue for an upgrade, we'd likely have to discuss that before being able to entertain a managed services plan.
Why do we need this information? So we can understand how much data is coming from a potential client's environment and scale our resources (engineers, software, etc.) accordingly.
---
---
Examples of Managed IT Services Pricing
These examples aren't a replacement for talking with an expert, but you'll get a better idea of what prices you can expect. Keep in mind there are ways to save money when signing a managed IT services agreement like:
Signing an agreement for 3+ years to avoid paying the one-time setup fee

Gaining volume discounts for having a large number of devices to manage
Working with one of our engineers is the best way to discover where you can save money on a managed services contract
Example 1: Small-to-Medium-Size Business (SMB) with One Location & Nine Devices
Here's a pricing example from one of our small business clients. This business owner needed the technology to support business growth but didn't have the time or resources to find or hire a qualified IT employee. They decided outsourcing their IT needs was the best route to support their business goals. Let's break down their costs.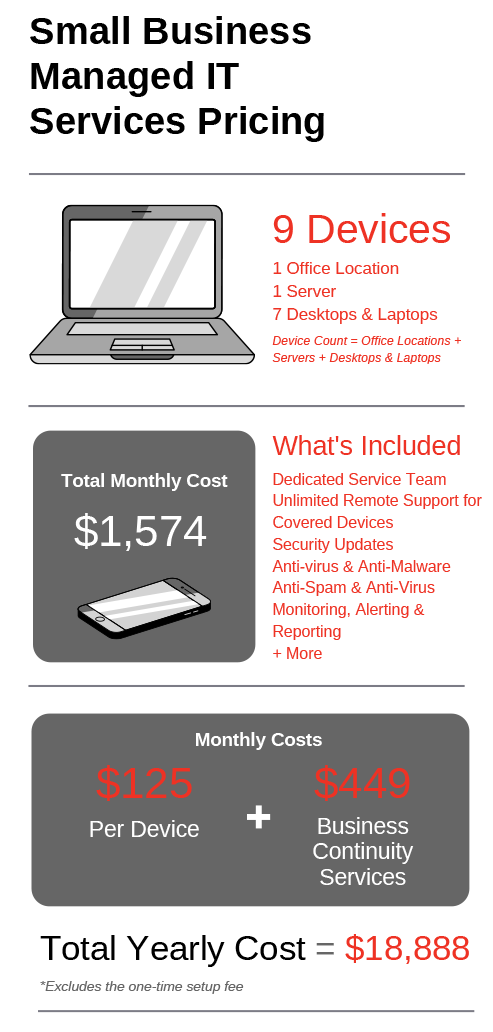 Example 2: Business with Four Locations & 100+ Devices
Here's a pricing example from a larger client with multiple locations, servers and over 100 devices. With four locations and hundreds of employees working with computers, it made sense to outsource this business' IT needs to a managed service provider. Let's break down their costs in the graphic below: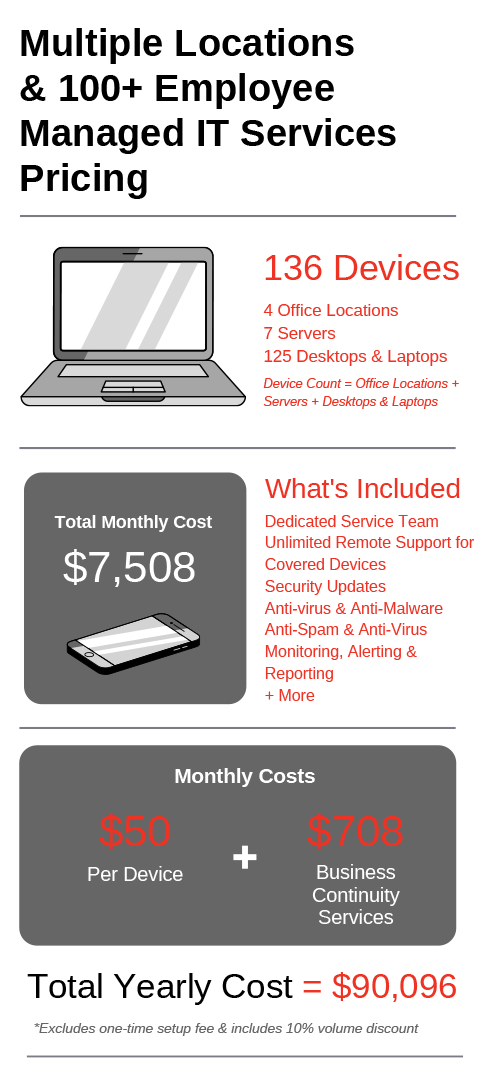 When looking at prices, consider the cost and time it requires to find, hire and retain expert IT employees.
According to Payscale.com, the average salary for an employee working in information technology (IT) services is around $80,000, and the cost goes up as the employee has more specialization. Someone is always going to be willing to pay your IT person more than you. The challenge lies in retaining existing employees and finding new ones when needed. So how do you keep your IT team?
The spectrum of expertise and the pay scale varies widely in IT. Are you looking for a $35,000 help desk support person to run to Best Buy and get a mouse, or are you needing someone at $120,000 who can be part network administrator, part infrastructure specialist and part security expert? When prices get too high, it might be time to consider outsourcing some or all of an organization's IT needs.
---
Contact Loffler for Managed IT Services
Cost is an important factor when deciding if managed IT services are right for your organization. As a managed service provider, Loffler manages IT needs for many clients, so they can focus on running and growing their businesses. Contact us now to learn more about managed IT.
Outsourcing your IT needs through a managed service provider can be a great investment. Having access to expert IT engineers for a fixed monthly cost will help you focus on growing your business instead of worrying about technical issues.
Loffler's IT managed services teams provide flexible plans for organizations of any size and across all industries.
Click here to learn more about Loffler's managed services plans.
Each organization has different needs for their IT environment, but here are some services that are usually included:
Dedicated IT Support Team
Monthly Reporting & Health Checks
Network Monitoring, Training & Updates
IT Strategy Roadmap
Backups
Unlimited Remote Support for Covered Devices
Anti-Spam/Malware/Virus
End-User Training
Managed services clients usually agree to a 2-year contract.
Many MSPs offer incentives for signing 3+ year agreements such as waiving the initial one-time setup fee.
From the start of the project to pushing everything live usually takes around 30 days.
This depends on the complexity of the project and collaboration between clients and providers.
We like to give a timeframe of 30 – 60 days.
This is where industry experience and expertise come into play.
When you work with us you'll be assigned a team of engineers that will get to know your business. We start with a network assessment to get a comprehensive overview of your IT environment and work with you to help tailor our solutions to your business.
Outsourcing your IT needs is an investment. For most organizations, the value managed IT provides is well worth the cost.
Think about the time and resources it takes to find, hire and retain top-level IT employees. It just makes sense to outsource when you have expert engineers available 24/7 for a fixed monthly cost.
Absolutely. We'll work with you to implement an IT strategy that fits your budget.
Outsourcing your IT needs lets you focus on business growth. Managed IT is perfect if you plan on scaling your business and adding complexity to your network in the future.
Organizations across all industries are turning to managed service providers for their IT needs.
Every business is an online business now. Aligning business goals and technology helps any organization prepare for future success.