Loffler SafeGuard
Video Surveillance | Security Cameras | Access Control | Cloud Security Systems
Protect Your Organization's Property
Today more than ever, businesses are focused on protecting their facilities, networks and data from breaches and threats. At Loffler, we deliver cloud-managed physical security solutions designed to mitigate risk and safeguard an organization's most important assets. With video surveillance, access control and video monitoring solutions, we leverage the cloud to bring our clients and partners the most reliable and intelligent security available.
Full Stack Security Solutions

Video Surveillance
Video can be stored redundantly on-premise and in the cloud with secure remote access.

Access Control
A wide variety of access control methods with multi-location, single pane of glass login.

Remote Monitoring
Event monitoring, virtual guard tours, virtual escorts and virtual gatekeeping.
Protecting Facilities, Networks and Data is More Critical than Ever
Limitations of outdated on-premise security technology are leaving many organizations vulnerable. As such, software and intelligence are leading the way. These security devices are increasingly smart, powerful, and connected, heightening the need for trusted equipment and cyber-aware partners. Our cloud-driven and custom-engineered solutions enable organizations to significantly reduce or eliminate these threats, utilizing proven technology and industry best practices.
Ready to Protect Your Business?
True Cloud Integrations
Traditional on-premise solutions provide minimal redundancy, untimely hardware malfunctions, overloaded storage, and a single point of failure. Loffler's solution requires no on-site server or gateway of any kind. Instead, we offer true cloud security solutions that leverage the cloud, maximizing the availability of each system, and eliminating single points of failure.
Easy to Deploy, Manage & Scale
In an ecosystem of devices, applications, and data, the cloud is transforming the way we deliver the security systems that protect our businesses. Cloud solutions have opened the door to easily accessible security management from anywhere at any time, and the cloud offers unlimited scalability and the ability to speed up the installation process.
Security Anywhere
The cloud transforms the way we deliver security, enabling Loffler to be industry and location agnostic. Perfect for unlimited scalability to:
• Indoor/Outdoor
• Single/Multi-site
i.e. Manufacturing, Healthcare, Banking, Retail & Commercial Real Estate, Government Facilities, Cities/Parks, Critical Infrastructure and more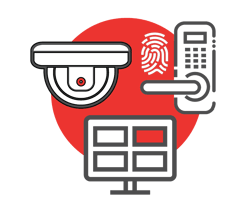 Loffler SafeGuard combines all aspects of physical security delivered as a service by a single, trusted security partner. Our cloud platform has enabled the seamless convergence of video surveillance, access control and video monitoring, so organizations can more intelligently protect their most important assets.
No matter where your business security system is hosted, in the cloud, on-premise, or in a hybrid of both, Loffler can help you build a system that meets your business' unique needs.
Download SafeGuard Mobile App for Apple iOS
What I bought from Loffler with the security and camera platforms was a platform that allowed me to see my entire operation very easily from my home, from my office or from my iPhone. I can basically see the entire company anytime I want, 24/7.

VIEW CASE STUDY