Turner's passion for Loffler's mission to help clients succeed and his tenure in the office technology business leads to new customer advocacy role.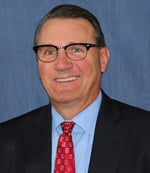 Loffler Companies is pleased to announce that John Turner has been named Vice President of Customer Success. In this new role, Turner will create a relationship-focused client management process that aligns client and vendor goals to achieve desired outcomes.
Turner's 38 years of business technology experience began at Xerox where he worked for 12 years before starting his own Xerox sales agency in 1995. He joined the Loffler team in 2008 as the Director of Managed Print Services. In addition to leading the Managed Print Services division, he was named Chairperson of the Loffler Helping Hands Team in 2016, leading the effort to create and promote Loffler's community involvement activities and give employees opportunities to donate their time and talent.
"I'm very passionate about leading Loffler's Customer Success Team to ensure the highest level of customer experience for all of our clients," Turner said. "Loffler is focused on the voice of the customer and the overall health of our business relationship. We're committed to helping our clients succeed and are implementing a new business model to ensure those desired outcomes are met," Turner said.
"John is absolutely the best person for leading Customer Success at Loffler," said John Hastings, Executive Vice President of Loffler's Imaging Division. "He is a positive, trusted partner who just loves people. He'll go above and beyond to make sure our clients are having the best experience we can provide."
Founded by Jim Loffler in 1986, Loffler Companies is nationally recognized as a leader in business technology and services. It offers the most comprehensive business technology solutions in the country, with experts who bring it all together to build secure, optimized IT environments. Loffler's offerings include IT managed and security services, business security systems, disaster recovery/business continuity, multifunctional copiers and printers, print management services, software and workflow technology consulting, professional IT services/consulting,  unified communications, and on-site management of copy and mail centers. 
As one of the top-selling Canon and Konica Minolta dealers in the U.S., Loffler Companies also works with leading partners such as Nutanix, Arctic Wolf, Microsoft, Mitel and Intermedia as well as Xerox, HP, Lexmark and FP Mailing Solutions. These wide-ranging products and services exist for one purpose: to help organizations succeed. Loffler's team of over 500 employees works hard every day to exceed the expectations of clients, partners and the community. Specialized trainers, flexible billing and financing options at all price levels, and award-winning service and support are all benefits clients appreciate.