IT professionals today are overwhelmed. The common theme we hear is they are expected to do more with less.
More with less. That's the phrase that gets heads nodding. IT people are tired of hearing that from their bosses. There's more to manage today than yesterday. Cloud opportunities. Integrated systems. Data storage. Security threats that are constantly changing.
If you don't have an IT staff, or you don't have enough IT team members to do what is required, you need to lean on a partner that can bring all aspects of technology together for you.
Some IT teams rely on multiple vendors to create their technology ecosystem. Others take advantage of a company like Loffler to connect those dots for them.
I was recently in a meeting where one of our key customers shared why they like to partner with Loffler. They liked knowing that we had them covered with a suite of business solutions offerings, including service and support for their copiers and printers, business phone systems and IT systems. They liked knowing they could rely on our team for a positive experience with office technology. They liked knowing they had one number to call when they had a question regarding their office technology. Finally, they had found a technology partner that was capable of providing personalized, world-class support for their entire technology ecosystem.
Which brings us to this post. I wanted to outline the reasons why customers like these consolidate multiple business solutions under one vendor.
Gartner advises leaders in vendor management to streamline their business processes to give their organization a competitive advantage. One of the best ways to do that is by consolidating vendors.
When assessing technology vendors, be sure to ask whether they have the ability to help you in more than one area. Here are a few reasons why:
Tighter system integration will drive a greater ROI for your business.
You have an awesome opportunity right now to leverage more technology to automate, streamline
and improve processes and workflows. If you go through the entire technology stack it takes to keep a modern business operational and competitive, the list is long. Phone systems. Servers. Security. Firewalls. Wireless. Our IT Management Chart shows both the strategic and tactical areas of IT that organizations need to focus on. Think of the technology you use as an ecosystem. Technology needs to work in unison to drive the greatest return on investment (ROI). The organizations that can optimize their technology will have the advantage.
Cloud computing is a great example, because it creates unique system requirements from security to bandwidth to backup requirements and more. Each of those pieces of the system need to be configured in the correct way in order to work properly. If any one of those pieces is missed, you have a major issue.
At Loffler, we understand that no two businesses are created alike. Every organization has its own set of business and technology challenges. A strategic technology partner needs to understand both. We need to understand the technical needs of your business, but we also need to take the time to understand the business drivers behind the technology. If we understand your business challenges and needs, we can go to work to evaluate different solutions to figure out how we're going to connect them all together.
Having fewer vendors reduces the room for error.
Again, I'll reference Loffler's IT Management Chart, which does a nice job of outlining all the IT components handled by an IT team. If every piece of your technology is provided and maintained by a different vendor, you then have to meet with every single one of those vendors. You have to trust they are all going to be strategic with your best interest in mind. You have to explain your business and technology strategy over and over and over again and hope that they all receive the information the exact same way. You need to make sure every single one of those vendors is in alignment to make sure you're driving ROI.
Think about the room that leaves for error; it could end up like a game of "telephone".
Fewer vendors means fewer errors. To be a strategic partner, Loffler works hard to understand the unique challenges and business goals our clients have. This doesn't happen overnight. We dedicate a lot of time to really understand our clients.
Fewer contracts to manage means less time spent in meetings.

CSO (Chief Security Officer) Online reported "the average company's network is accessed by 89 different vendors every week," with that number only expected to increase in the coming years. Think of all the work that goes into one contract. You need to make sure they're set up correctly from the start. You need to make sure they're being adhered to long-term. I usually expect to see 10-15 technology vendors within a business that hasn't streamlined and simplified vendor management. Every one of those vendors comes with at least one contract to maintain.
Let's say you have 10 vendors working with your office technology. Assume you have an account review with each, once each quarter. That's 40 meetings a year. How many contract negotiations happen on top of that?
Fewer vendors means fewer meetings and more time to focus on other strategic initiatives. We've worked hard at Loffler Companies to consolidate contracts for our clients. Consolidating vendors helps you streamline a lot of those contracts under one umbrella. Fewer meetings and less to manage creates more time to spend on your business.

Less risk and less vetting for security.

You have to confirm that every vendor with access to your systems is secure. Think of Target. A few years ago they experienced a massive data breach having to do with their HVAC vendor, who had come in to do diagnostics. Target opened up a port on their firewall for the HVAC vendor, and the bad guys found their way in through it. You take on risk if you don't vet your vendors. Just like with contract meetings, doing all that vetting takes time.
The vetting process builds trust and credibility. Once that's established, it's easier to move forward at a quicker pace. Loffler Companies is vetted and audited all the time by current and potential clients. The goal is to confirm compliance, so clients know they aren't taking on security risks while working with us. With any vendor you take on, you have to vet them to ensure they're not putting you at risk. They have to meet your security requirements. If you consolidate vendors, you have to vet fewer vendors. Fewer partners, less vetting.
Not only does Loffler Companies pass security audits with flying colors, but we help other companies complete security audits and create a roadmap for more secure systems.
Reduce finger pointing with one point of contact for service.
When you need to make a call to your technology partner, they do some basic troubleshooting, and you isolate an issue to three potential technology partners. We've all been there, right? You spend hours rounding them up for a phone call, and all you get is finger pointing. No one takes responsibility. You're the one stuck in the middle, coordinating phone calls and playing middleman.
With a world-class Network Operations Center, and all of our solutions under one roof, Loffler's ability to troubleshoot as a team eliminates finger pointing. It also reduces the time you need to spend coordinating communication between vendors. We excel at bringing a quicker resolution to your problem.
In addition, we have the ability to show you metrics for all your Loffler technology and services from one customizable, web-based dashboard. Real-time service metrics. Net promoter score. Date of last backup. Open Tickets. SLA Metrics. The list goes on.
---
A lot of people think that Loffler has a lot to gain by having all your business. That's true, assuming we do an outstanding job, it's a great opportunity for us. At the same time, we have a lot to lose. If we're lackluster in just one area, it puts the rest of the account at risk.
Some vendors will give you the dog and pony show, make all kinds of promises and after the sale, you never hear from them again. That's different with us. We're here to build a long-term relationship because we know if we can do a great job, you'll at least give us the opportunity to come back and earn your business time and time again. What you get from Loffler is a different attitude all together. It's not about one sale. It's about building the trust and credibility and really getting to know your business so we can drive maximum ROI for you.
Loffler is the Midwest's most comprehensive technology company, offering multiple products and services through a world class team of experts. Make us prove it.
IT Solutions. Copiers and Printers. Cloud. Managed Services. Unified Communications. People-Based Services. Contact us to learn more about consolidating your vendors.
Contact Loffler to Consolidate Your Technology Vendors
Read More: How to Begin a Digital Transformation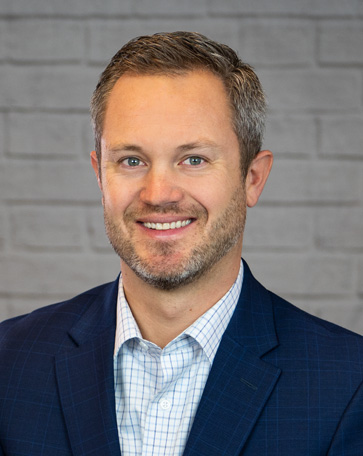 James Loffler is the President of Loffler Companies. He began his career in sales working for a Fortune 500 technology company and held several positions at Loffler before working his way up to President. Under James' leadership, Loffler's IT business grew more than 95% and has been recognized multiple times as one of Americas top managed service providers (CRN Magazine). He plays a crucial role in developing business strategy and vision as well as ensuring the success of Loffler Companies customers, employees, technology partners and the communities we serve. He enjoys biking, boating, flying, and traveling with his wife and three sons.