Three weeks ago, I made the decision to get our people home as soon as possible. This was not a difficult decision; it was a necessity.
News of the coronavirus was worsening every day. COVID-19 had been named a pandemic the day before.
We jumped into action. Anyone whose laptop was set up with remote access or who could access their files using Office 365 was out first. Then we started equipping desktop users with new laptops and remote access. We enabled employees to take calls at home. We trained new users on Microsoft Teams and other meeting collaboration tools. We moved most of our workforce to work from home. Something we – like many other organizations in our community – had never done before.
Now we're home. Now we move forward. Now what?
We know we're going to get through it.
I've spent 45 years in business and have been through many ups and downs in the market. In the middle of a down, it feels like it will never end. I've worked through recessions in every decade of my career, starting in the 70s, with a couple in the 80s and another in the early 90s. I, like many, remember going through the recession and the shock following 9/11. In more recent memory there was the Great Recession and housing market crash of 2008. These ups and downs were all big swings. We got through them all. But the modern workforce has never seen anything quite like the COVID-19 pandemic.
We know this is going to take a while.
If we continue to work together (by staying apart as much as possible), it will get better. We're sacrificing our economy for human life. It's really hard, but we're trying to not bombard our healthcare system. That's the right thing to do.
I'm trying to think of this time of uncertainty as a time to reflect. If we're lucky enough to be quarantined with loved ones, we have extra time with our family. Time we may look back on one day and cherish. I know I am grateful for the time I have spent with my wife over the last few weeks.
This is a real balancing act, trying to move forward while feeling stuck. In the meantime, we keep a positive attitude. We get creative. The COVID-19 pandemic is affecting our employees, our clients, our community. Everyone. Here's how Loffler has adapted to do our part and get us through this:
We're supporting our clients in performing emergency services.
I'm proud to own a business that supports emergency services. Doctors, nurses, lab workers, people selling food and stocking shelves, police officers, highway patrol, government entities, manufacturers, and the list goes on, are our heroes. We need to hold them up. Loffler Companies has been deemed an essential service, so we're being innovative in the ways that we follow health and safety guidelines while keeping communication tools used in these emergency services – copiers and printers, phone systems, IT infrastructure, etc. – up and running and secure.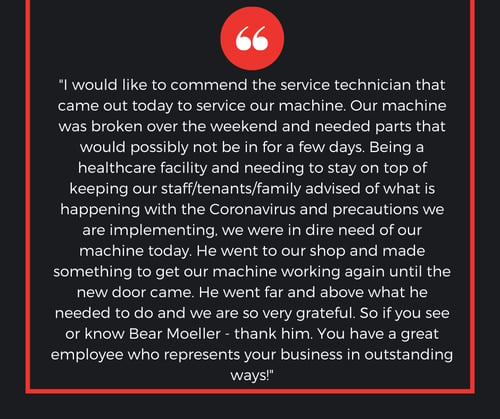 Comment received from a healthcare organization located in Iowa.
We're providing innovative work-from-home solutions.
We did this before the COVID-19 pandemic, and we'll continue doing it long after. We enable organizations to work from anywhere with easy and secure remote work solutions. This means accessing documents in the cloud with Microsoft Office 365. Implementing Unified Communications (UC) business phone systems where all your communication tools are accessed in one easy app. Cloud file access, cloud fax retrieval and automated workflows. Collaboration tools found in UC systems and within Office 365, like Microsoft Teams. We customize and support the right solution for your unique organization. Many of these solutions we proudly use in our own offices.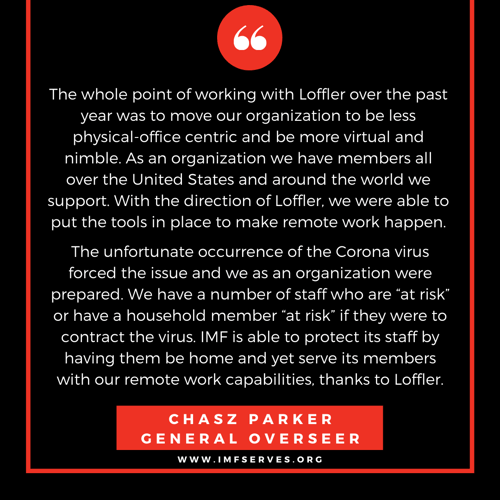 We're performing remote triage.
Protecting our clients' health and our employees' health means we have technicians and engineers working remotely to make repairs without physically going to a client site and risking exposing people. We are a managed service provider (MSP) focused on supplying technology solutions to businesses. This means we have expertise and ability in tracking, watching what's going on with people's equipment and being able to provide service for them remotely.
---
Now is the time to come together while staying apart. We can do that with the right technology. I am so proud to be part of the solution for our partners, our employees, our clients and our community: to help you succeed through this difficult time.
Contact Loffler About Easy and Secure Remote Work Solutions
Read Next: Cybersecurity Advice for Working from Home During COVID-19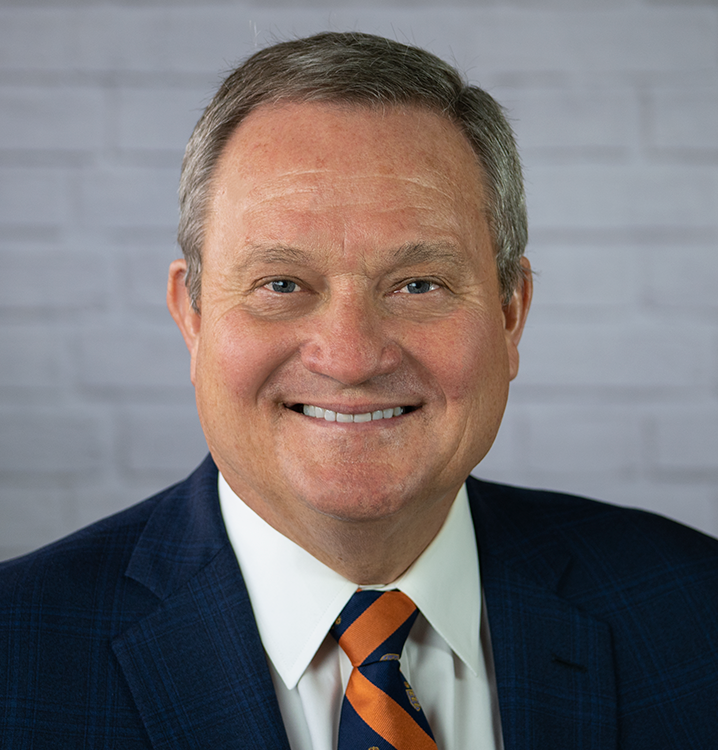 Jim Loffler is the founder and CEO of Loffler Companies. He started the company in 1986 with dictation machines, expanding to faxes, copiers, IP Phones, IT managed services and much more. Today, the company employs over 600 team members in 18 locations in six states, and focuses on long-term relationships. Jim is proud of the many awards Loffler Companies has received over the years, including ten years as one of INC 5000 magazine's "Fastest Growing Private Companies in America." Loffler Companies is also the official technology partner of the Minnesota Vikings, Minnesota Timberwolves, Minnesota Lynx, Minnesota Wild, St. Paul Saints and the University of Minnesota athletic department. In 2018, Jim was named one of Minnesota's Top 500 Business Leaders. Jim has been married for more than 40 years to Darcy, his junior high school sweetheart. They have two children, four grandsons and one granddaughter. In his spare time, Jim enjoys golfing, boating, cooking, photography, music and traveling.