Loffler's key knowledge of implementing secure, follow-me-printing creates cost savings by eliminating abandoned and wasted printing and improving workflow for organizations of all sizes.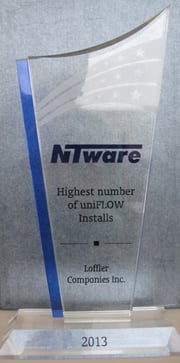 Loffler Companies, the leading business technology and services provider in the Upper Midwest, was presented an award by international partner NT-ware for the Highest Number of uniFLOW Installs in the United States in 2013. The award was presented at an NT-ware Conference in Chicago, IL on July 15, 2014.
The Loffler Team earned the Top Installation Award by leading the industry in their understanding of controlling print environments in regard to secure printing, statistical data analysis of print usage, advanced scanning workflows, and providing a platform for secure mobile printing. The award positions Loffler as a national technology leader in output management and workflow technologies.
"Congratulations to Loffler on winning the NT-ware award for deploying uniFLOW to the highest number of customers in 2013", said Karsten Huster, President & CEO NT-ware. "Loffler has been a strong NT-ware partner over the past few years and has been instrumental in delivering workflow solutions to solve problems for many businesses."
Choosing Loffler for the installation of uniFLOW has the added benefits of saving time and cutting costs for businesses by eliminating abandoned and wasted printing. Documents are held in a secure queue and printed only when the user is at the machine.
"In over 23 years of working with print and workflow technologies, I have not seen a product like uniFLOW, that is a single platform technology and allows us to seamlessly transform our clients print and workflow environment", said Jeff King, Chief Technology Officer for Loffler.
Supporting clients in the effective implementation of business solutions with its knowledgeable and dedicated team of IT and consulting and workflow specialists, Loffler Companies provides integrated office technology and services partnered with leading brands such as Canon, Konica Minolta, Toshiba, Océ, KIP, HP, Lexmark, NEC, ShoreTel, EMC, and Microsoft. Its offerings include multifunctional copiers, printers, managed print services, IP phone systems, IT Professional Services, IT Managed Services, software and workflow technology consulting, dictation, call recorders, and on-site management of copy centers and mail rooms.
By reducing cost, improving security and increasing productivity, NT-ware's technology is aimed at optimizing operations in businesses of all types and sizes. Founded in 1998 as a small start-up, today NT-ware employs more than 100 members in Bad Iburg, Germany with subsidiaries in New York, Singapore and Tokyo. Their products and services are available in all international markets with Canon as their partner in development, distribution and support.