Upper Midwest's leader in innovative business technology and services excels at completing Canon,
Konica Minolta, Toshiba, Lexmark & HP device service calls right the first time, maximizing user up-time and productivity.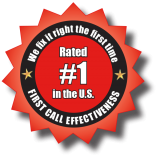 Loffler Companies, an award winning and nationally recognized leader in business technology and services, earned a number one ranking in First Call Effectiveness (FCE) in 2013 from BEI. This prestigious rating means that Loffler Service Technicians fix devices properly the first time and for an extended period following, optimizing user productivity and machine longevity. For more than 20 years, BEI Services has been the trusted provider for unbiased imaging device and technician performance benchmarking.
For Loffler, quality service is about much more than a good technician. A solid infrastructure, which includes quality processes, inventory integrity, product experts specialized by product set and efficient territory assignments are all part of the winning formula, according to Joel Nelson, Vice President of Operations, Loffler Companies.
"Above and beyond the basic components an organization needs to offer service, Loffler offers our number one FCE rating, less than three-hour on-site response time, phone calls answered within 20 seconds by people, next-day supply delivery, as well as multiple inlets into our service delivery system, including phone, email, auto-report, or web portal for easy client access," explained Nelson. "In addition, we use 100% OEM (original manufacturer) parts. Our parts inventory is first rate, and our total client call activity metric on waiting for parts, is at less than 10 percent."
"We thank our clients for trusting us with their business technology and services needs and in return, we do our best to keep their equipment in the best condition and running productively to help ensure their success," said Jim Loffler, President and CEO, Loffler Companies. "The first-class service and support from our team of the best and brightest enables us to sustain our competitive advantage in the industry. Many thanks also go to our committed and valued technicians and client services team."
Loffler Companies, established in 1986, continues to be the leading business technology and services provider in Minnesota and Western Wisconsin, as well as being nationally recognized in the top 15 by many of its suppliers. Loffler's almost 400 employees work hard every day to exceed the expectations of clients, partners and the community. Loffler Companies has been named to the Inc 5000 list of "Fastest Growing Privately-Held Companies in America" for seven years in a row, as well as being a StarTribune "Top Workplace" for the past three years. The Jefferson Award for Public Service was awarded to Loffler Companies in 2012, recognizing Loffler employees' long history of giving back their time, talent, and financial resources to the community.
About Loffler Companies, Inc.
Loffler Companies provides integrated office technology and services partnered with leading brands such as Canon, Konica Minolta, Toshiba, Océ, KIP, HP, Lexmark, NEC, ShoreTel, EMC, and Microsoft. Its offerings include multifunctional copiers, printers, managed print services, IP phone systems, IT Professional Services, IT Managed Services, software and workflow technology consulting, dictation, call recorders, and on-site management of copy centers and mail rooms.