Loffler Companies team of experts worked behind the scenes at the 2016 Ryder Cup, playing a key role in providing support to the Lexmark technology that kept the event running smoothly.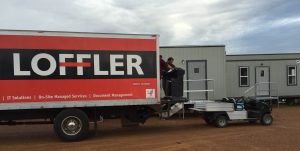 Two semi-trailer loads of print technology were prepped and staged at Loffler Companies' warehouse in Bloomington, MN before being transported and installed to support the 2016 Ryder Cup at Hazeltine Golf Course in Chaska, MN this past September. The teamwork between Lexmark and Loffler Companies provided winning support and helped make the event a huge success. Lexmark, the official provider of printing technology for PGA of America, shared that this was the largest event Lexmark has provided support for, and the best experience they could have hoped for working with the Loffler team.
"Teamwork plays a critical role in technology support and managed services in any organization," says Jim Loffler, Founder and CEO, Loffler Companies. "We were happy to partner with Lexmark. We know how much preparation is needed for an event like this to run smoothly and providing seamless technology support is exactly what Loffler Companies is about. We are extremely proud to be recognized for our hard work at Hazeltine for the Ryder Cup."
Loffler Companies, excelling under Jim Loffler's leadership since 1986, continues to be the leading business technology and managed services provider in Minnesota and Western Wisconsin, as well as being nationally recognized in the top 10 by many of its partners. Throughout Loffler's continued growth, balanced by organic growth and acquisitions, their focus continues to be on making every client a top priority. Loffler's 475 employees work hard every day to exceed the expectations of clients, partners and the community.