Loffler continues to cultivate an environment where employees have high job satisfaction and clients reap the benefits of excellent customer service and top technology industry solutions
Loffler Companies, the Upper Midwest's largest privately owned business technology and services provider, has been named a 2017 Best Place to Work by the Minneapolis St. Paul Business Journal, as a top-scoring business in the Large Company category. This is the second consecutive year that Loffler has been recognized for this honor in addition to seven consecutive years of Star Tribune "Top Workplace" recognition and four years as a Minnesota Business "100 Best Companies to Work For" honoree.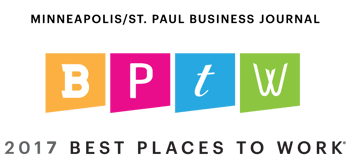 The award is determined by a confidential, employee-based survey from Quantum Workplace, an independent firm, to get a statistically accurate account of what employees think about their employers and work environments. To qualify for the Best Place to Work honor, a company must have at least 10 full-time employees in the metro area or 1,000 employees in Minnesota. The Best Places to Work were announced on the Business Journal's website via video on June 22 and was published in their August 18 issue. Honorees will enjoy a celebratory reception at the Renaissance Minneapolis Hotel, The Depot on Thursday, Aug. 17.
"Our team of the best and brightest are the key to our ability to deliver on our mission statement of exceeding expectations on every level, for our clients, our partners, and the community. The fact that our employees are willing to share with the world that they are happy and fulfilled in their work makes me incredibly happy and grateful," said Jim Loffler, Loffler Companies Founder and CEO. "It reinforces what we see every day at Loffler – that we hire only the best and brightest and they are our most important asset."
Loffler's broad offerings of cutting-edge business technology and managed services, nationally recognized service and support, specialized trainers, and flexible billing and financing options at all price levels are appreciated by clients. As one of the top-selling Canon and Konica Minolta dealers in the country, Loffler Companies also provides products from Xerox, HP, and Lexmark as well as Phone Systems, Managed Print Services, IT Solutions, Software and Workflow Technologies and On-Site management of copy centers and mailrooms.