Co-Managed vs Managed IT Services: Which is Right for Your Organization?
As your organization grows, so does your need for technology.
A well-managed IT ecosystem is important for any organization that plans to scale in the future.
Many organizations find that staying on top of current IT trends and the latest technology can be overwhelming. Plus, finding and retaining top-level IT talent is a challenge.
Outsourcing some or all your IT needs to a service provider can help you fill in the gaps you're currently missing.
Here's what you need to know about managed and co-managed IT services.
Managed IT vs Co-Managed IT Services: What's the Difference?
Managed IT means your entire IT infrastructure is handled by a managed service provider (MSP). This means you don't have to hire and train your own in-house IT staff. You get the expertise of a CIO and the support of highly trained engineers all at a fixed monthly cost.
Your MSP will be your IT help desk and responsible for all critical IT components. This is an ideal option for an organization that struggles to hire and retain high-level IT talent, or organizations that don't have the resources to track and mitigate network security concerns.
Co-managed IT is another option for an organization in need of IT help. In a co-managed IT solution, an MSP works alongside your in-house IT team to provide expertise that may be lacking, or additional end-user support, so your internal team can focus on larger projects.
A co-managed solution can offload some or all of your IT team's routine tasks like patching, help desk calls, data storage, or other time-consuming tasks. Your MSP can also fill in the gaps when your IT team is short-staffed due to vacations or sick days.
Who Should Consider a Managed IT Solution?
The biggest advantage of working with a managed service provider is they act as your organization's IT department. You get the benefit of having world-class industry experts as your IT department, and you don't need to worry about hiring and training IT staff. Your MSP is responsible for making sure your systems are up to date, responding to problems or helping with whatever issues arise.
Having a dedicated service provider also helps you minimize downtime. Every minute your systems are down you're losing revenue. An MSP will make sure you have proper backups and policies in place to get your network back up and running in the event of an incident or disaster.
Working with a service provider can also lead to significant cost savings. Most managed IT contracts come with a fixed monthly rate so you know exactly what you're paying and can budget accordingly.
Fixed monthly rates and a high level of IT support can lead to increased efficiency across your entire organization so you can allocate resources toward larger projects and focus on growing your business.
Sometimes, organizations are hesitant to turn over their whole IT strategy to a service provider. They want to remain in control of their strategy and IT decisions, but an experienced MSP will work with you and take time to understand your business ensuring the right decisions are being made to help you succeed.
Who Should Consider a Co-Managed IT Solution?
Completely outsourcing an organization's IT operations can provide a great advantage. But for some organizations, a co-managed solution is a better option.
For organizations that want to maintain control over their systems and IT infrastructure, a hybrid solution provides that opportunity. A co-managed solution can help support your organization with strategy, and aid in-house IT departments that are spread thin.
Sometimes it just isn't feasible for your IT department to provide 24-hour support, and a co-managed service provider is a great option to consider.
Organizations that find co-managed IT services beneficial often opt to outsource their tedious day-to-day tasks and help desk support. This allows in-house teams to focus on strategic projects that provide huge benefits to their business.
Cybersecurity is another area of concern for organizations of all sizes. If you don't have the internal expertise to properly protect yourself from cyber-attacks you can hire an MSP to handle cybersecurity.
A managed service provider will help implement proactive security measures and make sure you're prepared to respond when an incident occurs.
Find the Right Fit for Your Organization
Outsourcing all or part of your IT needs to an MSP can open your organization to the expertise of multiple subject matter experts, without having to hire them and pay benefits. This is helpful whether you're supplementing your team, treading water while down a person, or in need of full IT support.
IT services make systems and processes more effective, efficient and secure, which allows your organization to reduce costs and focus on your core business.
Read Next: Learn About Loffler's Managed IT Services Programs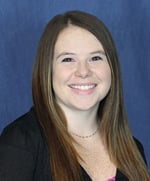 Jordan is an IT Solutions Account Executive at Loffler who helps businesses improve technology. She has been with Loffler since 2013, and has worked in business development and as a trainer and project coordinator for unified communications before moving into her current role. In her spare time, Jordan enjoys traveling, spending time with friends and family, watching Vikings football and trying new food.